REAL ESTATE: ASIAN TRUST GETS 10-STORY OFFICE; GATEWAYS HEAT UP
Lakeside Tower Sale Part of Foreign Trend
Sunday, May 15, 2011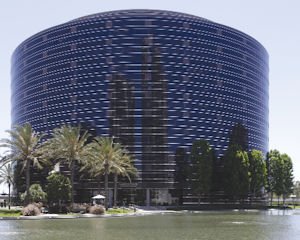 Santa Ana's Lakeside Tower has been bought by an Asian buyer in Orange County's largest office sale so far this year.
The 10-story building, one of the more prominent at the city's southwestern edge next to Costa Mesa, sold for an estimated $37 million, according to real estate sources.
That works out to about $170 per square foot for the 216,364-square-foot building near the San Diego (I-405) and Costa Mesa (55) freeways at 4 Hutton Centre Drive.
The estimated sales price is down more than 40% from what investors paid for the building near the peak of the market in mid-2007.
Lakeside Tower's new owner, Liu Living Trust, is described as a wealthy Asian real estate investor that's looking at the largely empty building as a long-term investment.
Not much more is known about the buyer. Investment brokers with the Newport Beach and Torrance offices of CB Richard Ellis Group Inc. who worked on the deal declined to disclose more details.
The deal appears to be the most prominent local office sale involving a foreign investor in the past few years.
A few more could be brewing, according to real estate sources.
Among Asian buyers, the most notable deal seen locally of late came last September when Irvine's Great Far East Inc., a commercial real estate buyer whose funding largely comes from Chinese investors, bought a midsize office near John Wayne Airport. Great Far East paid a reported $12 million in the lender-driven sale.
A Chinese-based investor also is said to be under contract to buy the Irvine Spectrum office that holds the headquarters of restaurant operator Yard House USA Inc. and others, according to sources.
That 210,000-square-foot building, at 7700 Irvine Center Drive, is expected to sell for slightly less than $60 million.
Asian investors and other foreign buyers of commercial real estate in the past year have focused on cities such as New York, San Francisco and Washington, D.C. The greater Los Angeles area now is getting more attention, according to brokers.
Overseas investors have spent more than $10 billion on larger commercial property deals in the U.S. during the past year, with about half of that total consisting of office sales, according to a report this month from New York-based research firm Real Capital Analytics.
That figure's up nearly 140% from the prior year, according to Real Capital.
Along with Asians, Canadians have been among the largest buyers of U.S. properties in the past year. Improving economic conditions in the U.S., discounted sale prices and good exchange rates are driving much of the demand among foreign investors.
Prev Next