Lakeside Tower Sale Part of Foreign Trend
REAL ESTATE: ASIAN TRUST GETS 10-STORY OFFICE; GATEWAYS HEAT UP
Sunday, May 15, 2011
Share this article: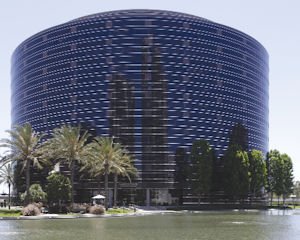 Santa Ana's Lakeside Tower has been bought by an Asian buyer in Orange County's largest office sale so far this year.
The 10-story building, one of the more prominent at the city's southwestern edge next to Costa Mesa, sold for an estimated $37 million, according to real estate sources.
That works out to about $170 per square foot for the 216,364-square-foot building near the San Diego (I-405) and Costa Mesa (55) freeways at 4 Hutton Centre Drive.
The estimated sales price is down more than 40% from what investors paid for the building near the peak of the market in mid-2007.
Lakeside Tower's new owner, Liu Living Trust, is described as a wealthy Asian real estate investor that's looking at the largely empty building as a long-term investment.
Not much more is known about the buyer. Investment brokers with the Newport Beach and Torrance offices of CB Richard Ellis Group Inc. who worked on the deal declined to disclose more details.
The deal appears to be the most prominent local office sale involving a foreign investor in the past few years.
A few more could be brewing, according to real estate sources.
Among Asian buyers, the most notable deal seen locally of late came last September when Irvine's Great Far East Inc., a commercial real estate buyer whose funding largely comes from Chinese investors, bought a midsize office near John Wayne Airport. Great Far East paid a reported $12 million in the lender-driven sale.
A Chinese-based investor also is said to be under contract to buy the Irvine Spectrum office that holds the headquarters of restaurant operator Yard House USA Inc. and others, according to sources.
That 210,000-square-foot building, at 7700 Irvine Center Drive, is expected to sell for slightly less than $60 million.
Asian investors and other foreign buyers of commercial real estate in the past year have focused on cities such as New York, San Francisco and Washington, D.C. The greater Los Angeles area now is getting more attention, according to brokers.
Overseas investors have spent more than $10 billion on larger commercial property deals in the U.S. during the past year, with about half of that total consisting of office sales, according to a report this month from New York-based research firm Real Capital Analytics.
That figure's up nearly 140% from the prior year, according to Real Capital.
Along with Asians, Canadians have been among the largest buyers of U.S. properties in the past year. Improving economic conditions in the U.S., discounted sale prices and good exchange rates are driving much of the demand among foreign investors.
Building's History
The sale of Lakeside Tower is the latest chapter in a commercial real estate market that's seen its share of ups and downs on prices in the past few years.
Santa Ana's Triple Net Properties LLC bought the building in 2005 for about $49 million.
It sold it for about $65.5 million in 2007 to Legacy Partners Commercial Inc., a Foster City-based real estate investor.
The building was about 85% full at the time of Legacy Partners' purchase.
Since that deal, Lakeside Tower has lost two large tenants: Triple Net (which now operates as Grubb & Ellis Co. elsewhere in Santa Ana) and Jacobs Engineering Group Inc.
The building's now about 20% full. Monthly rents are listed at about $1.90 per square foot, according to brokerage data.
Legacy Partners paid about $37 million in cash and got an additional $29 million in financing when it bought the building in 2007, according to regulatory filings.
This month's sale to the Liu Living Trust included the assumption of a $31.5 million loan, according to CB Richard Ellis officials. The total sale price was not disclosed. It is believed to include an additional $5 million or so cash payment.
CB Richard Ellis' Bob Smith, Paul Jones and Karen Scholte represented Legacy Partners.

Kevin Shannon and Todd Tydlaska of CB Richard Ellis' South Bay office represented the buyer.
Other buildings in the area have seen values fall in the past few years.
The Griffin Towers complex, a pair of buildings next to Lakeside Towers, sold for $90 million last year as part of an ongoing purge of local offices by Los Angeles-based Maguire Property Inc., now MPG Office Trust Inc.
Griffin Towers sold for about $164 per square foot to Dallas-based Lincoln Property Co. and New York-based private equity firm Angelo Gordon & Co. The sale price is less than half of the debt that was held on the property by MPG Office Trust.
The nearby Skyline at MacArthur Place, a pair of high-rise towers developed a few years ago as condominiums, were sold to apartment owner Essex Property Trust Inc. of Palo Alto last year for $128 million.
That price is believed to be about half the upscale project's construction cost.
Flippers
Some investors who bought properties during the recession appear poised to turn profits as values rise amid ongoing signs of a recovery.
Across MacArthur Boulevard from Lakeside Tower, El Segundo-based Highridge Partners paid about $31 million, or about $125 per square foot, for the 3 MacArthur Place office in 2009.
The building's previous owner, New York-based Tishman Speyer Properties LP, paid about $83 million for 3 MacArthur in mid-2007.
Highridge now is looking to sell the leased-up property for nearly $60 million.