APPAREL: SLIGHTLY OLDER AIM FOR NIKE UNIT; OCTOBER DEBUT
Hobie Taps Hurley for Menswear Brand Revival
Sunday, May 15, 2011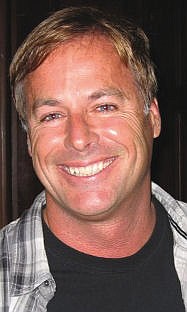 Veteran surf brand Hobie is aiming for a revival of its men's apparel business.
San Juan Capistrano-based Hobie Designs Inc. has signed an agreement to license its brand to Hurley International LLC in Costa Mesa to create a full line of athletic and casual clothes for men.
Hurley, part of Oregon's Nike Inc., will lead design and merchandising under the Hobie by Hurley label.
The line is set for a soft rollout in October and will include T-shirts, board shorts, woven shirts and pants.
Prices for the new line are not yet available.
"We've been in and out of apparel for a long time," said Jeff Alter, president of Hobie. "It's really a function of wanting to do a complete collection of apparel."
The timing made sense, Alter said.

Retailers and the action sports apparel industry are beginning to recover from a tough few years that forced Hobie to keep plans for an apparel line on hold.
"We've just been through tough economic times that many companies also went through," Alter said. "We sort of pulled back and have been looking for the right partner, such as Hurley."
The deal with Hurley followed a number of "social conversations" that had been taking place for a long time, Alter said.

Alter is the son of local surf legend and company founder Hobie Alter, who started the business making balsawood surfboards out of his parent's Laguna Beach home in 1950. Hobie Alter later opened his first surf shop in Dana Point in 1954.
Other Licensing Deals
Hobie has struck brand licensing agreements with multiple companies to manufacture everything from kayaks to sunglasses.
At its height in the 1980s, the company's branded products brought in sales of about $200 million annually.
Sales are considerably less now. Alter declined to provide a figure.
Hobie's current roster of licensees covers a wide range of products.
Oceanside-based Hobie Cat Co. makes catamarans and kayaks. New York-based Eyeking LLC has the license to make sunglasses under the Hobie brand. Cypress-based Manhattan Beach LLC makes Hobie swimwear for women.
Teaming with Hurley made sense as Hobie extends its brand in apparel, Alter said.
"With the Hobie brand, we've been specializing in hard goods: surf boards, kayaks, stand-up paddle boards," Alter said. "It seemed like a good fit to get in with a company that's focused on apparel since we don't have the expertise that they have in that category."
Prev Next