Eye Surgery Device Maker Raises $16M in Funding
HEALTHCARE: WAVETEC HAS RAISED $54 MILLION IN ALL; BUYOUT?
Sunday, May 15, 2011
Share this article: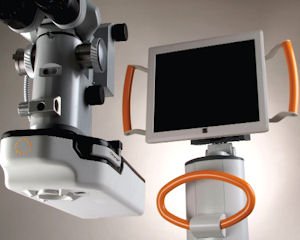 Aliso Viejo eye device maker WaveTec Vision Systems Inc. has raised $15.9 million in a fourth round of funding.
WaveTec's lead product, ORange, is used in surgeries that replace cataracts with intraocular lenses.
The device works by analyzing a line that gives a 3-D view of the eye's surface and can be mounted directly on a surgical microscope.
The company plans to use its latest funding to market ORange to eye surgeons, said Tom Frinzi, WaveTec's chief executive.
ORange is sold directly to doctors with ongoing support from WaveTec.
Versant Venture Management LLC, a venture capital firm with an office in Newport Beach and an existing WaveTec investor, led the funding.
Two other existing investors, Accuitive Medical Ventures LLC of Atlanta and Menlo Park's De Novo Ventures, also took part.
They were joined by new investor Gund Investment Corp. of Princeton, N.J.
WaveTec has raised about $54 million in venture capital backing.
The company started in 1997 and existed on angel funding until Versant made its initial investment in the company in 2005.
Versant made its first investment in WaveTec after it learned that wavefront analysis technology could be used in eye surgeries.
"The distinctive element of the WaveTec opportunity, in our opinion, is the clinical impact we believe it can have," said Charles Warden, a Newport Beach-based Versant managing director.
WaveTec's product is designed to work with surgery devices from Santa Ana's Abbott Medical Optics Inc., Switzerland's Alcon Inc., which has operations in Irvine, and Rochester, N.Y.'s Bausch & Lomb Inc., which has operations in Aliso Viejo.
The big companies that dominate eye surgery devices "are potentially strategic acquirers of this technology—it's very complimentary to their cataract portfolio," Frinzi said.
Other wavefront devices, including one that Abbott Medical acquired in 2007 when it then was Advanced Medical Optics Inc., are geared more to laser surgery to correct fuzzy vision, rather than cataract surgery.
WaveTec started to sell ORange about two years ago in the U.S. The device also has European regulatory approval.
The company plans to start selling in Europe later this year or in early 2012.
WaveTec doesn't disclose revenue.
The company has been able to nab several sizable rounds of funding in recent years.
In 2009, WaveTec raised $20 million in a round that included Versant, Accuitive and De Novo.
The three also took part in a $13 million round in 2007.