DINING: TV SPOTS SET, SHIFT ON PROMOTIONS TO KEEP CHECKS UP
El Pollo Loco Eyes End to Slump
Sunday, May 15, 2011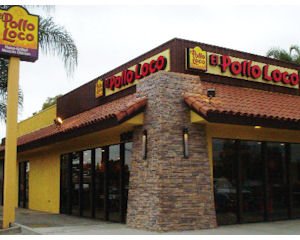 Costa Mesa-based El Pollo Loco Inc. is going back to its roots in a bid to revitalize the struggling Mexican grilled chicken chain.
The company has a new advertising agency at work on a campaign set to start in the summer. It also has restaurant redesign plans it hopes will help reverse a prolonged slump in sales.
The goal is to position El Pollo for growth as the economy recovers, Chief Executive Steve Sather said earlier this year.
El Pollo Loco is owned by Costa Mesa-based EPL Intermediate Inc. The chain has 405 restaurants mostly in California and neighboring states.
The company runs 170 restaurants with the rest owned by franchisees.

New advertising is set to focus on the chain's signature grilled chicken.
"It will be a branding campaign focusing on our hero—our signature citrus-marinated, flame-grilled chicken," said Julie Weeks, vice president of communications.
The campaign will include TV spots in English and Spanish and signs in restaurants.
It will be the first campaign by El Pollo Loco's new agency of record, goodness Mfg. in Hollywood.

Goodness won El Pollo Loco's general audience and Hispanic advertising accounts in February after a review late last year.
The account, valued at $15 million to $20 million last year, previously had been handled by two agencies.
Venice-based Krueger Communications did the chain's general audience work. Burbank-based cruz/kravetz: Ideas handled Hispanic advertising.
Tie-Ins
The ad campaign likely will be tied in with a promotion, Weeks said.
Tepid spending by diners last year led El Pollo Loco to run promotions ranging from free cake to discounts on chicken dinners. The deals lowered average customer checks.
So far this year the company has focused on limited-time promotions "to provide value while protecting total average check," Sather said.
The ad campaign also is expected to tie in with redesigns for existing and new restaurants.
San Francisco-based architecture firm Gensler & Associates is working on a prototype design. The new look is expected to debut later in the year with a remodel of an existing restaurant.

Weeks declined to provide details about the redesign.
The location of the first redesign has not yet been determined. It likely will be in Los Angeles or Orange County, according to Weeks.
The pending marketing efforts could be crucial as the company works through this year, which Sather said "may be as challenging as 2010."
El Pollo Loco's sales took a hit during the downturn as mortgage foreclosures and job losses hit its target demographic of Hispanics particularly hard.
Prev Next