DATA: YEAR-OLD COMPANY EYES FRAUD, RISK OFFERINGS FOR GROWTH
CoreLogic Looking Beyond Real Estate
Sunday, May 15, 2011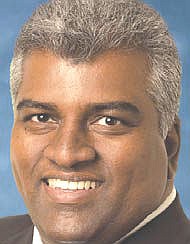 Santa Ana's CoreLogic Inc. still is a work in progress a year after becoming a stand-alone company.
The provider of consumer, financial and property data for real estate, mortgage and other companies has spent the past year adding and exiting businesses as it weighs the best mix of products and services.
CoreLogic bills itself as having built the largest real estate, mortgage application, fraud and loan databases in the country.

CoreLogic emerged in last June's split of Santa Anta-based First American Corp.
Last week, CoreLogic had a $2.1 billion market value, making it among the larger publically traded companies in Orange County.
But some analysts contend CoreLogic could be doing better.
The company continues to feel the lingering effects of the housing and mortgage collapse, most recently in the form of a $129 million lawsuit filed against it this month by the Federal Deposit Insurance Corp. related to housing appraisals for mortgages.
"We've achieved revenue growth despite significant industry headwinds, (including) lower mortgage activity and a persistently slow default market," CoreLogic Chief Executive Anand Nallathambi said on a conference call with analysts and investors earlier this month.
Results
CoreLogic recently reported a first-quarter profit of $23.3 million, down 20% from a year earlier and largely in line with Wall Street expectations.
Quarterly revenue came in at $404 million, up about 1% from a year earlier and topping expectations by about 8%.
"It was a good quarter," Nallathambi said.
Executives appear confident that profits could grow through the rest of 2011, even though the housing market remains soft.
Nallathambi, the former head of onetime First American subsidiary First Advantage Corp., has led CoreLogic since late 2009 and led last year's split from First American.
The split also created Santa Ana-based title insurer First American Financial Corp. The move was made to free up CoreLogic, which often got overshadowed on Wall Street by First American's title insurance business.
CoreLogic still is getting its footing on Wall Street.
At the end of the first quarter, CoreLogic counted seven analysts who follow the company. Based on questions during its recent conference call, analysts still are getting a handle on CoreLogic's business lines, balance sheet and expenses.
The company has major investors, including Boston-based FMR LLC, parent of Fidelity Investments, Pennsylvania's Vanguard Group Inc. and New York-based BlackRock Inc., which likely were First American investors who inherited CoreLogic shares in the split.
CoreLogic's shares are down about 10% in the past year. They're flat since the start of the year.
Prev Next