EYEING "MORE INTERESTING CONTENT," FEMALE APPEAL
Bosch Outfits Blogger's Kitchen to Boost Brand Image
Sunday, May 15, 2011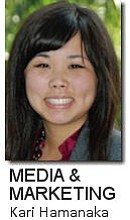 Huntington Beach-based BSH Home Appliances Corp. has enlisted an Orange County blogger to polish the image of its Bosch brand.
The company, part of BSH Bosch and Siemens Home Appliance Group in Germany, hired Amy Winkelmann to post recipes and write about her experiences cooking with Bosch appliances.
The blog is called "Amy's Kitchen Table" and started last month.

It aims to show off attributes of Bosch's "full kitchen from more of a lifestyle perspective as opposed to showing pictures of a product," said Bosch Associate Brand Manager Micaela Shaw.
"From a business perspective we needed more interesting content," Shaw said. "People don't want to just hear about promotions."
Bosch provided and installed its appliances in Winkelmann's kitchen.
She posts to the blog on a weekly basis.

"People can learn about the features of the products," Shaw said. "As she posts recipes, she's teaching people how to use the different Bosch innovations. This is a really great tool for us to show the full extension of what Bosch can do."
The company has a Facebook page used to list events and show model homes to new customers and others who already own its appliances.
The company also has Twitter, YouTube and Flickr accounts.
Bosch targets men and women ages 35 and over for its home appliances.
About 55% of buyers are female, according to company research. That's low compared to some competitors, but the company believes its appliances have a strong resonance among men because of their familiarity with Bosch brand tools, Shaw said.
Pledge Campaign
Mission Hospital is about halfway through a four-week campaign meant to increase mammogram screenings at the hospital.
The Mission Viejo hospital, part of Orange-based St. Joseph Health System, hopes to get 1,000 women from South Orange County to pledge to get a mammogram.
"We're trying to educate and encourage women to get a regular screening mammogram by making the process more convenient than ever before," said Mission Hospital Director of Marketing and Communications Colleen Reinhart.
The campaign consists of traditional advertising in print publications, outdoor ads, social media and a street team.
The street team members, about 12 in all, patrol locations such as the Shops at Mission Viejo, senior centers, parks and other South County locations to schedule women for mammogram appointments or talk to them about the importance of getting a screening.
The team members, hired through Lake Forest-based Northten Inc., use iPads to schedule the appointments.
Prev Next