'Anniversary' Angels Lead 'Bad News' Dodgers; Family Chef
Sunday, May 15, 2011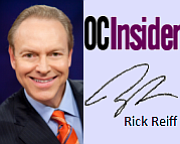 It's early, but so far the Angels are on track to accomplish a first this season—outdraw the Dodgers. Through the middle of last week, home attendance for the team formerly known as Anaheim was averaging 38,600, about 2,000 more than the "bad news" team in Chavez Ravine. The Angels have been at or near the top of their division and celebrating their fan-friendly 50th anniversary. But it's not so much what they are doing right as what the Dodgers are doing wrong—the McCourts' divorce distraction, the ownership turmoil, fan-safety worries. While the Angels' attendance is off 4% from last year, in line with the major-league trend, the Dodgers' attendance has fallen 17%. Angels attendance has come close to the Dodgers' a few times through the years, but the Dodgers have nearly 12,000 more seats to offer. Still, if the Angels are in a pennant race and the Dodgers flounder, this could be Arte Moreno's year to claim bragging rights in his "Los Angeles" market …
Celebrated fashion designer Patrick Robinson, a product of Fullerton's Sunny Hills High School, is out after four years as head designer for Gap, the San Francisco jeans retailer that has been unable to recapture its 1990s glory …
Law firm Shulman Hodges & Bastian in Foothill Ranch is representing the court-appointed trustees in two high-profile Chapter 7 bankruptcy cases. Name partner Len Shulman is working on luxury real estate broker John McMonigle's bankruptcy. Partner Robert Huttenhoff is handling the case of bankrupt (and indicted) former major league ballplayer Len Dykstra …

Comedy legend Jerry Lewis will be the commencement speaker Saturday at Chapman U's College of Performing Arts ...
The New Majority hosted Minnesota guv and GOP prez hopeful Tim Pawlenty at the Pacific Club. Another prez contender, former New Mexico Gov. Gary Johnson, has breakfast with the Harvard Business School Association of OC Thursday at the University Club, Irvine … EE RR as a Pip. …
There's extra "opa" in the annual Greek Fest this Friday through Sunday at St. John the Baptist Greek Orthodox Church in Anaheim: It's the 50th anniversary for OC's oldest Greek Orthodox church. Info at www.oc-greekfest.com …
Ryan O'Melveny Wilson, new executive chef at Five Crowns restaurant in Corona del Mar, brings impressive cooking credentials from the Bay Area, Italy, Japan and L.A. He also has "in" with owners Richard and Mary Alice Frank—he's their grandson, the fourth generation of Frank and Van de Kamp to work in the family's famous Lawry's Restaurants business. Fifi Chao soon will report on Wilson's "fresh approach" and other changes to an OC dining fixture …
Speaking of family transitions, the Family Business Council at Cal State Fullerton's Mihaylo B-School is doing succession planning of its own. The program is seeking a successor to founding director Mike Trueblood, who will segue into an ambassador role for the council.