OC 50 Grows More Global in Flavor; Bren Imposter Deal
Sunday, May 8, 2011
Share this article: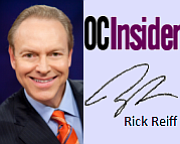 OC keeps getting more cosmopolitan. Back in 2008, the Insider noted that 23% of the entries on the OCBJ's OC 50 list of the most influential businesspeople (15 of 66) were born outside the U.S. On the 2011 list that ran last week, the percentage of foreign-born entries had edged up to 27% (17 of 63). As many OC 50ers were born in Iran as in Orange County (three each.) More than half (33) live on the coast in Newport Beach or Laguna Beach. Five live in Coto de Caza and four each in Irvine and San Juan Capistrano. None live in OC's most populous cities, Anaheim and Santa Ana. Appropriately, the youngest OC 50er is Michael Morhaime, 43, CEO of online game maker Blizzard Entertainment. As in 2008, the oldest member of the OC 50 is homebuilder William Lyon, now 88 and still 27 days older than developer Henry Segerstrom …
The latest chapter in the career of Laguna Beach resident Cynthia Harris, a member of the OC 50 during her tenure as president of Disneyland Resorts, is ending. The company she took over last year, L.A.-based clothing chain Metropark, has filed for Chapter 11 bankruptcy and is closing all 69 of its stores nationwide …
Federal prosecutors and the lawyer for Donald Bren imposter Moundir Kamil continue plea negotiations and report that they are "confident" of reaching a settlement prior to a May 17 trial date. A year ago Kamil, a convicted bank robber, somehow obtained the $1.4 million tax refund check of OC's richest man, deposited it in a Cerritos branch of East West Bank and withdrew $1.1 million before the fraud was discovered …
Whoever paid $325,000 in an online auction for the original Pauley Pavilion center-court circle remains anonymous. UCLA Athletic Director Dan Guerrero, who would like to see the circle permanently displayed at the new Pauley, says he hasn't heard from the winner. UCLA booster and OC real estate investor Tony Thompson says he dropped out of the bidding at $250,000 …
In an update to his Chapter 7 bankruptcy filing, luxury real estate broker John McMonigle has fine-tuned his estimated debts to $51 million; no change in his assets, which he has estimated at $1 million to $10 million …
Humble Kingston Technology billionaire John Tu (now head of the county's largest private company—see story, page 1) brought the band, played the drums, kicked in $100,000 and accepted a philanthropy award but begged off giving an acceptance speech at the PBS SoCal (KOCE-TV) gala at the OC Fair & Event Center. PBS chief Paula Kerger came in from Washington, D.C., to celebrate with her new L.A.-market flagship station …
Longtime Riviera editor Kedric Francis has joined Allan Simon's Laguna Beach-based Firebrand Media as group editor of the magazine division, which includes Newport Beach mag, Laguna Beach mag and St. Regis' in-room Bespoke. Tina Borgatta takes over as Riviera editor.