FOOD: STARBUCKS, CARL'S JR. ARE AMONG NEWER CUSTOMERS; CREDO DRIVES BIG PRIVATE COMPANY
McDonald's Spurs Golden State, Others Eyed for More Growth
Sunday, May 8, 2011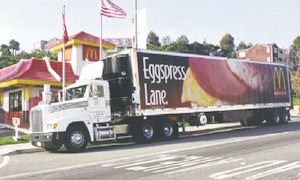 "The better McDonald's does, the better we're going to do," Wetterau said at the time of the center's opening.
Golden State is McDonald's largest supplier of liquid products, second largest distributor and third largest beef supplier in the U.S.
Challenges
Tempered consumer spending and rising gas and food prices are big challenges for the company. Golden State does some hedging and initiated some fuel cost savings programs to combat rising prices, according to Wetterau.
"We work with our customer partners on these issues," he said.
Wetterau sets the tone at Golden State, which is run on a credo steeped in religious philosophy and Golden Rule customer service.
It says in part, "Our success is dependent upon our customers' success."
"That's what GSF associates strive for every day," he said.
In an Anaheim speech today before the USC Marshall Alumni Association of Orange County and Harvard Business School Alumni Association of Orange County, Wetterau is expected to focus on Golden State's credo and philosophy.
"I'm very passionate about how they can positively affect a company in terms of associate alignment and building a great company culture, as well as building brand trust with customers," he said.
Wetterau plans to discuss the history and evolution of the creed at the conference and how it has benefited companies he's led.
The values have been in place at Golden State for decades. The creed was invoked in 1999.
History
Golden State began as a small meat company in the late 1940s providing products to restaurants and hotels. Cementing a distribution deal with then-fledgling McDonald's a decade later was a turning point in the company's history.
In 1967, Golden State became a primary supplier to McDonald's and is credited with developing the burger chain's signature Big Mac sauce.
In 1998, St. Louis-based Wetterau Associates—a family company run by Wetterau and his brother Conrad—bought half of Golden State.
It bought the remaining stake in 2004 from Los Angeles-based investment firm Yucaipa Cos., founded by California supermarket tycoon and Pittsburgh Penguins co-owner Ronald Burkle.
Under Wetterau, the company has grown from $1.4 billion in sales to more than $4 billion today.
Golden State relocated from Pasadena to Irvine in 1992.
Prev Next