FOOD: STARBUCKS, CARL'S JR. ARE AMONG NEWER CUSTOMERS; CREDO DRIVES BIG PRIVATE COMPANY
McDonald's Spurs Golden State, Others Eyed for More Growth
Sunday, May 8, 2011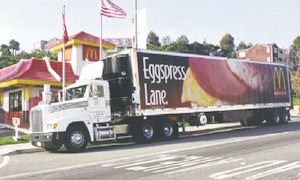 Key customer McDonald's Corp. helped Irvine's Golden State Foods Corp. weather the recent downturn. Now the food distributor's long-running diversification plan may prove to be just as important in the recovery.
Golden State, which ranks No. 3 on this week's Business Journal list of the largest local private companies here (see list, page 24), saw added revenue and hiring in the past year as customers across the globe improved business.
"Last year was challenging for many companies and individuals, but GSF was blessed to have a strong growth year in 2010," Chief Executive Mark Wetterau said. "This was because of our diverse base of customers who were very focused on their markets and customers."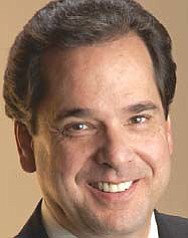 The company posted 2010 revenue of $4.6 billion, up 12% from a year earlier. It added nearly 900 employees in the past year for a total of 4,000 worldwide.
About 3,400 are based in the U.S., including 45 at its Irvine headquarters.
Much of the company's business comes from McDonald's as a supplier of beef, sauces, dressings, syrup, ketchup and other products. It services roughly a quarter of McDonald's in the U.S.
In the past decade, Golden State has added more than 50 other restaurants, food manufacturers and coffee makers as clients.
New Customers
Notables include Starbucks Corp., Chick-fil-A, Nestlé SA, Yum Brands Inc.'s KFC and Pizza Hut, and CKE Restaurants Inc.'s Carl's Jr.
"Diversification has enabled us to save all our customers costs by leveraging the economies of scale of higher volume production," Wetterau said.
The company runs 22 U.S. distribution centers and one in Cairo, Egypt, where it also has a bakery that supplies rolls, buns and McDonald's Big Macs and Quarter Pounders to more than 180 regional stores.
Other operations include liquid processing plants in the City of Industry, Georgia and Egypt; a meat processing plant in Georgia; two produce plants in Australia and one in New Zealand.
In all, Golden State serves 20,000 restaurants in more than 50 countries from three continents.
McDonald's remains Golden State's largest client and accounts for most of its sales. In many cases, Golden State has adapted and grown operations to keep up with McDonald's.
In 1994, it started manufacturing and distribution plants in Egypt at McDonald's request to help the company open restaurants throughout the Middle East.
In late 2009, Golden State opened a North Carolina warehouse to serve McDonald's in the region. The 133,000-square-foot center supplies more than 500 McDonald's in North Carolina, South Carolina and Virginia.
Prev Next