FOOD: STARBUCKS, CARL'S JR. ARE AMONG NEWER CUSTOMERS; CREDO DRIVES BIG PRIVATE COMPANY
McDonald's Spurs Golden State, Others Eyed for More Growth
Sunday, May 8, 2011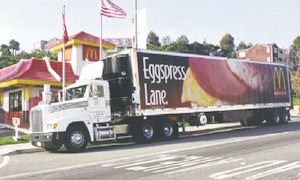 Key customer McDonald's Corp. helped Irvine's Golden State Foods Corp. weather the recent downturn. Now the food distributor's long-running diversification plan may prove to be just as important in the recovery.
Golden State, which ranks No. 3 on this week's Business Journal list of the largest local private companies here (see list, page 24), saw added revenue and hiring in the past year as customers across the globe improved business.
"Last year was challenging for many companies and individuals, but GSF was blessed to have a strong growth year in 2010," Chief Executive Mark Wetterau said. "This was because of our diverse base of customers who were very focused on their markets and customers."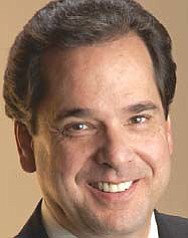 The company posted 2010 revenue of $4.6 billion, up 12% from a year earlier. It added nearly 900 employees in the past year for a total of 4,000 worldwide.
About 3,400 are based in the U.S., including 45 at its Irvine headquarters.
Much of the company's business comes from McDonald's as a supplier of beef, sauces, dressings, syrup, ketchup and other products. It services roughly a quarter of McDonald's in the U.S.
In the past decade, Golden State has added more than 50 other restaurants, food manufacturers and coffee makers as clients.
New Customers
Notables include Starbucks Corp., Chick-fil-A, Nestlé SA, Yum Brands Inc.'s KFC and Pizza Hut, and CKE Restaurants Inc.'s Carl's Jr.
"Diversification has enabled us to save all our customers costs by leveraging the economies of scale of higher volume production," Wetterau said.
The company runs 22 U.S. distribution centers and one in Cairo, Egypt, where it also has a bakery that supplies rolls, buns and McDonald's Big Macs and Quarter Pounders to more than 180 regional stores.
Other operations include liquid processing plants in the City of Industry, Georgia and Egypt; a meat processing plant in Georgia; two produce plants in Australia and one in New Zealand.
In all, Golden State serves 20,000 restaurants in more than 50 countries from three continents.
McDonald's remains Golden State's largest client and accounts for most of its sales. In many cases, Golden State has adapted and grown operations to keep up with McDonald's.
In 1994, it started manufacturing and distribution plants in Egypt at McDonald's request to help the company open restaurants throughout the Middle East.
In late 2009, Golden State opened a North Carolina warehouse to serve McDonald's in the region. The 133,000-square-foot center supplies more than 500 McDonald's in North Carolina, South Carolina and Virginia.
"The better McDonald's does, the better we're going to do," Wetterau said at the time of the center's opening.
Golden State is McDonald's largest supplier of liquid products, second largest distributor and third largest beef supplier in the U.S.
Challenges
Tempered consumer spending and rising gas and food prices are big challenges for the company. Golden State does some hedging and initiated some fuel cost savings programs to combat rising prices, according to Wetterau.
"We work with our customer partners on these issues," he said.
Wetterau sets the tone at Golden State, which is run on a credo steeped in religious philosophy and Golden Rule customer service.
It says in part, "Our success is dependent upon our customers' success."
"That's what GSF associates strive for every day," he said.
In an Anaheim speech today before the USC Marshall Alumni Association of Orange County and Harvard Business School Alumni Association of Orange County, Wetterau is expected to focus on Golden State's credo and philosophy.
"I'm very passionate about how they can positively affect a company in terms of associate alignment and building a great company culture, as well as building brand trust with customers," he said.
Wetterau plans to discuss the history and evolution of the creed at the conference and how it has benefited companies he's led.
The values have been in place at Golden State for decades. The creed was invoked in 1999.
History
Golden State began as a small meat company in the late 1940s providing products to restaurants and hotels. Cementing a distribution deal with then-fledgling McDonald's a decade later was a turning point in the company's history.
In 1967, Golden State became a primary supplier to McDonald's and is credited with developing the burger chain's signature Big Mac sauce.
In 1998, St. Louis-based Wetterau Associates—a family company run by Wetterau and his brother Conrad—bought half of Golden State.
It bought the remaining stake in 2004 from Los Angeles-based investment firm Yucaipa Cos., founded by California supermarket tycoon and Pittsburgh Penguins co-owner Ronald Burkle.
Under Wetterau, the company has grown from $1.4 billion in sales to more than $4 billion today.
Golden State relocated from Pasadena to Irvine in 1992.