TECHNOLOGY: DEMAND DOWN, COSTS UP; TEMPERED VIEW "SOLID"
Kingston's Crown Carries Challenge After Record 2010
Sunday, May 8, 2011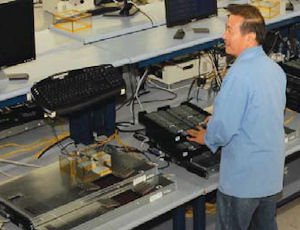 The company's closest competitor, Taiwan's A-Data Technology Co., had 7.6% of the market.
Revenue in 2011 is expected to see slower growth or even decline across the industry and continue to slide through 2013 as chip prices fall amid lower demand.
Kingston hopes new products will help offset a rise in production costs that's expected because of the increases on copper and various other materials.
Late last month it came out with a stick memory module that plugs into computers and boosts memory speed and improves overall performance. It recently debuted a line of secure flash drives for corporate customers as well.
The effects of new products on Kingston's annual sales remains to be seen.
"We measure success in product lines when we get to hundreds of millions in revenue," Leathem said.
New products aren't a sure-fire recipe for big sales increases.
"Nobody likes to have a bad product launch but we've had our share," said Leathem, singling out the short-lived KPEX media player, Kingston's version of the iPod Touch.
"When it became apparent it wasn't what we hoped we killed it," he said.
Founders
Flexibility has been a key to Kingston's growth. Cofounders John Tu and David Sun started the company in 1987 amid a severe shortage of memory chips and introduced products as the market shifted.
Today the company employs 825 in Fountain Valley and some 4,700 worldwide.
The company expects to add workers this year to its manufacturing operations in China while its local workforce is projected to remain steady.
Prev Next