TECHNOLOGY: DEMAND DOWN, COSTS UP; TEMPERED VIEW "SOLID"
Kingston's Crown Carries Challenge After Record 2010
Sunday, May 8, 2011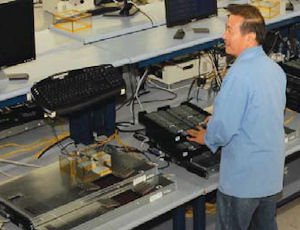 The county's newly crowned largest private company, Fountain Valley-based Kingston Technology Co., has a tempered outlook for 2011 amid supply uncertainties in Japan and slowing demand for its memory products for computers and consumer electronics.
Kingston expects a "solid" year with some new products but is "extremely unlikely to meet the same sort of revenue" as 2010, said Mark Leathem, vice president of corporate marketing.
Kingston posted record 2010 sales of $6.5 billion, up from $4.1 billion, or nearly 59%, from a year earlier.
That pushed the company past the parent of Newport Beach-based Pacific Life Insurance Co. to take the No. 1 spot on the Business Journal's list of privately held companies.
Pacific Life had $5.8 billion in revenue last year, up 8% from a year earlier, placing it at No. 2 on the list for the first time since 1993.
Kingston's cautious outlook this year makes the insurer a viable threat to vie for the top spot on next year's list.
The third-largest privately held local company is Irvine's Golden State Foods Corp., which saw $4.6 billion in 2010 sales. (see story, page 1).
Kingston attributed last year's big sales gain to the economic rebound, better prices for memory chips it uses in its products, stronger demand for computer products from corporations and consumers, and stable supplies.
"Sometimes things really fall into place," Leathem said.
2011
2011 is shaping up different as manufacturers deal with rising costs and other challenges stemming from the Japan earthquake and tsunami in March.
"It has to have an impact," Leathem said of Japan. "We fully expect that to play out."
The cost of components that go into memory products are rising, even as other suppliers fill holes left by troubled Japanese companies, he said.
Kingston buys memory chips from big Asian producers and assembles them onto circuit boards for computers and networking gear or as flash memory cards, thumb drives and solid state drives for data storage.
A shortage of raw materials used to make printed circuit boards—namely copper-clad laminate—is predicted in the wake of Japan's disaster.
Competition remains a big challenge.
"The tech market moves so quickly," Leathem said. "It is endlessly difficult to do everything immediately and compete with everybody now."
Kingston is the market leader for memory modules—circuit boards loaded with memory chips that speed the performance of computers and consumer electronics. It had 46% of the market in the first half of 2010, the latest data available, according to El Segundo-based market researcher iSuppli Corp., part of Colorado's IHS Inc.
Prev Next