DINING: EXPANDING IN MEXICO, SOUTH KOREA; EYES RUSSIA, OTHERS
Johnny Rockets: Americana Abroad Driving Growth
Sunday, May 8, 2011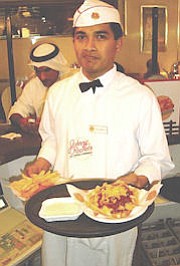 Aliso Viejo-based Johnny Rockets Group Inc. is banking on a love of American food around the globe for growth.

The company, which runs and franchises 1950s-style diners, is eyeing other countries to help it nearly double in size in the long term, Chief Executive John Fuller said.
Johnny Rockets, which serves burgers, fries and milkshakes, did about $300 million in sales last year from nearly 300 restaurants, most of them franchises.
The company is owned by Virginia-based private equity firm RedZone Capital GP LLC. Johnny Rockets ranks No. 36 on this week's list of the largest private companies based here (see list, page 24).
Last month, Johnny Rockets opened a restaurant in Sinaloa, Mexico, via a franchisee. It's the chain's 13th in Mexico.
The Sinaloa opening followed Johnny Rockets' first restaurant in South Korea by a franchisee in late February.
In March, the South Korean franchisee opened a second diner there.
"Our brand does better overseas than it does in the states, on average," Fuller said. "There are people who accept Western culture, and our brand's a natural fit for that. What we sell is Americana."
A typical Johnny Rockets abroad does $1.6 million a year in sales, versus an average of $1.1 million for U.S. diners.
More global restaurants are in the works.
Eventually, global openings are expected to make up 70% of new diners.
Johnny Rockets has a deal with a franchisee in Russia that's close to being finalized. That could bring 40 diners to Russia.
The company also is in talks in China, Singapore and Indonesia and will be meeting with a franchisee from Brazil in June, Fuller said.
Australia also is of interest, he said.
Franchisees are key to opening restaurants in other counties, according to Fuller said.
"You want to be understanding of the culture and what the eating habits are," he said.
In South Korea, the typical hamburger is about 30% smaller than a usual Johnny Rockets burger. In the Philippines, some type of pasta is standard on every restaurant's menu.
"You have to be cognizant of all that," Fuller said. "The best part is the operators are going to tell you that. They're the ones who educate us."
American Appeal
Johnny Rockets Group Inc.
• Headquarters: Aliso Viejo
• Business: 1950s-style diners
• Restaurants: some 300, 27 company-owned
• 2010 revenue: $300 million
• 2011 List ranking: No. 36
Expansion overseas is made easier by the fact that people want American food and the old-time diner atmosphere of Johnny Rockets, Fuller said.
Prev Next