Grass Greener?
CONEXANT TRADES QUARTERLY CRUNCH FOR PRIVATE EQUITY OWNERS
Sunday, May 8, 2011
Share this article: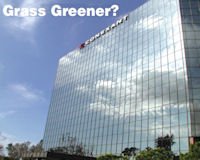 Newport Beach chipmaker Conexant Systems Inc. is adjusting to its new life as a private company.
Gone are quarterly earnings pressures, extra regulatory and compliance costs, shareholder scrutiny and short-term outlooks.
In their stead: a whole new set of challenges and benchmarks under the direction of a private equity company with its own interests.
In mid-April, San Francisco-based Golden Gate Private Equity Inc. finalized its $282 million buy of Conexant, ending the chipmaker's 12-year run as a public company.
Conexant ranks No. 53 on this week's list of the largest private companies here.
Newly minted Chief Executive Sailesh Chittipeddi doesn't seem to miss Wall Street and a focus on quarterly results above all else.
He said he welcomes the added time to develop long-term plans and see them through.
"That's advantage No. 1," said Chittipeddi, Conexant's former president who took over the top spot during the transition.
As a private company "you tend to take a much more strategic view," he said.
Private equity firms tend to hold investments for three to five years, giving Conexant a broader timetable than it saw in its last few years as a public company, when restructuring dominated.
Strategy
Conexant Systems Inc.
• 1970s: started as chip arm of defense contractor Rockwell International
• 1995: division named Rockwell Semiconductor Systems
• 1999: spun off as Conexant Systems
• 2002: Conexant spins off Jazz Semiconductor
• 2002: sells off wireless chip business, creating Skyworks Solutions
• 2003: Spins off Mindspeed Technologies
• 2011: taken private by Golden Gate
Conexant now is weighing business lines, new markets, positioning and branding, according to Chittipeddi.
"Our focus is entirely on growth. I don't see challenges on profitability," he said.
Conexant posted a $20 million 2010 profit on sales of $240 million.
Golden Gate is likely to be a fairly "hands-off" owner, according to a chip executive who was sitting in Chittipeddi's seat five years ago.
"They have a very good expertise in semis and they understand how the business works," said Jerry Fitch, chief executive of Irvine's Teridian Semi-conductor Corp., a maker of "smart" utility meter chips.
The company was sold last year by Golden Gate to Sunnyvale's Maxim Integrated Products Inc. for $315 million. In 2005, Golden Gate bought then-struggling Teridian from Japan's TDK Corp.
"That's truly the case," Chittipeddi said of Golden Gate. "They're very respectful to the management they have in place."
Conexant is expected to see more money go into research and development to drive long-term returns, another shift for Conexant as a private company.
"They're less likely to put pressure on you in areas they believe in," Chittipeddi said.
It helps that Conexant's new board is filled with technology executives with connections to suppliers, logistics, marketing and other key operations. In many instances, they share the same goals and interests as management.
Private company boards tend to be more helpful in setting up introductions and improving business lines, according to Chittipeddi.
"That level of proactivity on public boards doesn't exist," he said.
Printronix
Lower costs, flexibility and board involvement are the biggest benefits of going private, according to Randy Eisenbach, chief executive of Irvine-based Printronix Inc.
"As a private company you can do things with respect to the business model, decode what businesses to be in or not," Eisenbach said. "You can look at timing and not worry about what the public shareholders are thinking and what it does to your stock price. You get to make those decisions and implement them much faster."
Eisenbach joined the maker of industrial printers in mid-2008, five months after the company was taken private in a $109 million deal by San Francisco private equity firm Vector Capital.
The move worked out for Printronix, which employs about 200 in Irvine and 500 worldwide. A year after becoming majority owner, Vector backed the acquisition of Printronix's largest competitor, Tallygenicom of Virginia, which helped the company weather the worst days of the recession.
"Having the guts to invest and acquire our largest competitor enabled us to maintain flat revenues and nearly flat employment," Eisenbach said.
Conexant stands to save money on annual compliance costs, which typically are in the millions per year. Those costs are near the top of Chittipeddi's list of what he said he won't miss as a public company. He said he'll miss the exposure to analyst coverage and the ability to crack Wall Street's world "to talk about what you're company is doing."
Conexant isn't going entirely dark. It will continue to file quarterly reports for debt holders and engage analysts periodically.
Recruiting engineers and other employees isn't expected to suffer, Chittipeddi said, despite the prospect of losing options on publicly traded stock as part of compensation.
"We are having better success at hiring skilled talent for the positions we have open," he said.
Bonuses now can be tied to profitability and other benchmarks, according to Chittipeddi.
Conexant and Golden State already are working on a long-term exit strategy as executives meet with bankers and other investors.
"We have a fairly clear idea," Chittipeddi said.