Del Taco Eyes Utah, Texas, Beyond for Expansion
DINING: GIVING FLEXIBILITY FOR FRANCHISEES ON SIZES, BUILDINGS
Sunday, May 8, 2011
Share this article: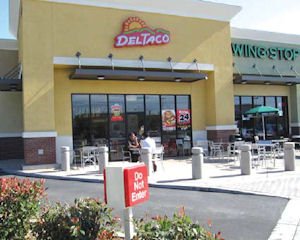 Franchisees in Texas, Utah and other western states are expected to drive expansion for Mexican-flavored burger chain Del Taco LLC.
"We still have room to grow in Southern California, but not at the rate that we feel the brand should grow at," said Jim Lyons, Del Taco's chief development officer and franchising chief operating officer. "We could not achieve the pace of growth that we're looking for strictly through Southern California."
The Lake Forest-based company is the second largest restaurant chain based here after Irvine-based Taco Bell Corp.
Del Taco now has more than 525 restaurants in 18 states. California is the chain's largest market with nearly 200 restaurants.
About half of Del Tacos are owned by the company with the rest run by franchisees.
Del Taco had $579 million in sales last year, ranking the company No. 16 on our list of the largest privately held companies here (see list, page 24).
The company debuted on our list this year after a restructuring by former parent company Sagittarius Brands Inc. of Nashville left Del Taco as a stand-alone operation under Del Taco Holdings Inc. in Lake Forest.
Del Taco's strategy calls for further expansion in the South, Southeast and Midwest, Lyons said.
In Utah, the company has a deal with a franchisee to open 13 restaurants. One recently opened with a second expected this year.
Del Taco had 24 Utah restaurants before the latest franchisee deal.
"It was critical for us to grow our success there," Lyons said.
The key to entering a market is to do it in a "quick and efficient manner," he said.
Del Taco has expanded in the Dallas area following its first restaurant there, which opened in the city of Denton in November.
McKinney, north of Dallas, is set for a second location.
Expected growth in Texas stems from a franchise agreement signed in February with Supremo Taco LLC, part of Dallas-based Sun Holdings LLC.
The agreement allows the franchisee to open several restaurants in the Dallas area during the next five years.
Dallas matches Del Taco's strategy of targeting markets with 18- to 49-year-olds with steady disposable incomes in communities expected to grow, Lyons said.
A company-owned restaurant in the Dallas area also is under construction and is expected to be completed by the end of the year.
"Restaurants do well for us," Lyons said. "We get a return on our investment, so we'll continue to build company restaurants."
Conversions
To woo franchisees, Del Taco spent the past couple years tinkering with restaurant sizes.

When the economy crashed and funding for franchisees dried up in 2008, Del Taco gave restaurant operators more flexibility in locations and sizes.
Franchisees now are able to convert existing buildings up to 3,000 square feet or as little as 1,800 square feet into a Del Taco.
That's a shift from Del Taco's traditional model, where restaurants were built from the ground up at 2,200 to 2,300 square feet.
"Conversions," as Del Taco refers to them, account for about 30% to 40% of the chain's restaurants in development or under construction.
One of those is a conversion of a Pioneer Chicken fried chicken restaurant, part of defunct Pioneer Take Out Corp., on Sunset Boulevard in Los Angeles.
Another conversion is a Colorado Springs, Colo., Good Times Burgers and Frozen Custard restaurant, part of Colorado's Good Times Restaurants Inc.
In other cases, restaurant operators have taken small end spaces in strip malls and added drive-throughs.
"There aren't as many new shopping centers being built," Lyons said. "So if you want to continue to grow or attract more growth than before, you need to come up with alternatives and more creative solutions."