Cianna Gets $12M, Plans Sales Push on Breast Cancer Device
HEALTHCARE: DEVICE MAKER TO ADD STAFF, WORK ON NEW PRODUCTS
Sunday, May 8, 2011
Share this article: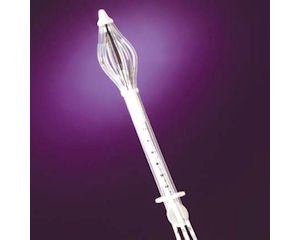 Aliso Viejo-based breast cancer device maker Cianna Medical Inc. has raised another $12 million in venture capital.
Cianna makes Savi, a device that provides targeted radiation in a procedure called brachytherapy for women who have had breast tumors removed.
The company touts Savi as a device that doctors can use to treat a larger group of breast cancer patients, including women with smaller breasts and those who have had breast implants.
Competing devices can't be used for some women who have had breast cancer surgeries, according to Cianna.
Privately held Cianna plans to use the money to hire more sales and marketing staffers, introduce Savi in some global markets and develop other breast cancer devices, said Jill Anderson, the company's chief executive.
"The funding will allow us to explore that a bit," Anderson said.
Cianna has raised $32 million since it became an independent company in 2007, according to Anderson.
Novo Ventures, a unit of Denmark's Novo AS, led the funding round.
Other participants included Fog City Fund and Saints Capital, both of San Francisco, and Portola Valley-based Emergent Medical Ventures.
Savi's targeted radiation treatment "provides a compelling alternative to whole breast irradiation," said Heath Lukatch, a Novo partner and new Cianna board member.
Novo takes "a long-term view to their portfolio companies," Anderson said. "I think it really gives us an opportunity to expand Cianna Medical into a broader women's health company."
Cianna is considering more breast cancer diagnostic and treatment devices, and some technology for gynecological oncology, such as treating cervical cancer.
Savi is Cianna's main product, providing a shortened, five-day course of high-dose radiation for early stage breast cancer following lump removal surgery. It is sold to breast surgeons, general surgeons, radiation oncologists and medical physicists who create treatment plans for cancer patients.
Hiring
The company, which has 42 workers, plans to add about 10 staffers in the next 24 months, Anderson said. About half of the new hires are set to be in sales and marketing and join the company by year's end.
Savi has had Food and Drug Administration approval since 2006 when the company was part of BioLucent Inc., also based in Aliso Viejo.
Massachusetts based Hologic Inc., a competitor, bought BioLucent in 2007.
Cianna was then spun off from BioLucent, whose main product is a mammography pad.
Cianna began selling Savi three years ago in the U.S.
European Sales
It received European regulatory clearance last year. The company has a distribution deal in Poland, where Savi is expected to hit the market later this month, Anderson said. The company is looking into other European markets and some in Asia, she said.
Anderson declined to give a revenue projection for Cianna in 2011.
She said the company has grown sales by more than 50% since 2009 and now has a market share of 20% to 24%.
"We are beginning to really demonstrate the clinical benefits of Savi," Anderson said.
Competing devices include Hologic's MammoSite and Contura, which was developed by Irvine device maker SenoRx Inc. (now part of New Jersey's C.R. Bard Inc.)
Savi also is taking market share in brachytherapy, according to Anderson.
The overall market for cancer brachytherapy devices is expected to reach $1.6 billion by 2015, according to market tracker Global Industry Analysts Inc. of San Jose.
Brachytherapy is used to treat prostate and other cancers as well as breast cancer.
Cianna plans to continue its independent development and is not interested in a sale at this point, Anderson said.
"It's premature to create any kind of exit strategies," she said. "We're going to build this company into the best that it can be."