Broadcom Talks Up Long View of Deal for Provigent
SEES BIG ENGINEERING GAIN, MARGINS DIP IN SHORT-TERM
Sunday, May 8, 2011
Share this article: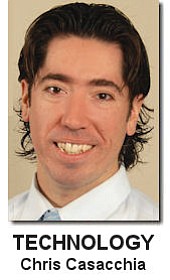 Irvine-based Broadcom Corp. expects its recent buy of Provigent Inc. to bring long-term benefits that will outweigh a short-term outlook that's expected to carry little or no gain this year.
Broadcom makes chips for computers, networking and consumer electronics and cell phones.
Israel-based Provigent makes chips for wireless network operators that allow for the transfer of voice, data and video signals from cellular base stations to their main network.
The chips are seen as a key part of a push by wireless service providers to offer faster downloads of information, video and music on their phones.
Provigent is expected to add revenue in the low millions for Broadcom for the current quarter, reflecting only part of the period since the deal closed late last month, according to Chief Financial Officer Eric Brandt.
The added revenue could be offset by the cost of the deal, Brandt said.
Broadcom will add about 100 employees from Provigent, which has its U.S. headquarters in Santa Clara. The company said it could see lower gross margins this quarter because of the deal.
Its first-quarter gross margin was 50.5%, up from 48.9% a year earlier.
Broadcom paid $313 million to acquire all of the outstanding shares and rights of Provigent.
The deal means that "Broadcom is uniquely able to offer service providers a complete platform of system solutions as they upgrade legacy mobile networks to 4G and manage the exponential growth in wireless data traffic," said Chief Executive Scott McGregor during a recent conference call with analysts and investors.
Broadcom is Orange County's biggest chipmaker with $6.6 billion in yearly sales, good enough to recently crack the top 10 of the largest chipmakers in the world for the first time.
Record sales and profits last year helped Broadcom outperform the overall industry and move up two spots in the rankings to No. 10, according to Stamford, Conn.-based market researcher Gartner Inc.
Demand increased for Broadcom's chips for tablet computers, smartphones, set-top boxes, broadband modems, networking gear and other products in 2010 but has slowed more recently.
Broadcom expects revenue in the current quarter to be roughly flat at $1.75 billion to $1.85 billion.
That would fall short of the $1.9 billion analysts had been expecting.
The company cited slowing sales of chips for smartphones to Nokia Oyj and Samsung Electronics Co.
The pending buy of Provigent brings Broadcom's acquisition of Israeli companies to eight.
Recent ones include Percello Ltd. for $86 million and Sightic Vista Ltd. for an undisclosed amount in November.
Local.com's New Director
Lowell Robinson, an industry veteran with a track record of leading growing technology companies, has joined the board of directors at Irvine-based search engine operator Local.com.
Robinson brings more than 20 years of experience in the media, web, software and marketing services sectors.
"Lowell is a great fit for our company due to his considerable operational experience with major online and offline marketing and advertising companies," said Local.com Chairman and Chief Executive Heath Clarke, one of six entrepreneurs honored in March for the Business Journal's annual Excellence in Entrepreneurship award.
From 2007 to 2009, Robinson served as finance chief and chief operating officer for MIVA Inc., an online advertising network and digital marketing company that was acquired by Kansas City, Mo.-based adknowledge.com.
He also served as chief financial officer for hotjobs.com, where he helped bring the company to profitability.
HotJobs was sold to Yahoo in 2002 for approximately $436 million.
Yahoo unloaded the online job site last year to Monster for $225 million in cash.
Lowell also has served as a director for five publicly-traded companies and currently sits on the board for The Jones Group, which counts Nine West, Jones New York and Anne Klein New York among its clients.
Robinson also is chairman of the board and on the compensation committee for community newspaper publisher American Consolidated Media Holdings.
Local.com runs an online search engine that directs users to local businesses based on general requests, such as "flowers in Irvine."
Users also get search results that include offers from local businesses, reviews, links to local websites, maps, driving directions and other features.
The company saw $84 million in revenue last year, up 49% from a year earlier.
Local.com saw a profit of $4 million, versus a loss of $6.3 million a year earlier.
The company had a recent market value of about $100 million.