SEES BIG ENGINEERING GAIN, MARGINS DIP IN SHORT-TERM
Broadcom Talks Up Long View of Deal for Provigent
Sunday, May 8, 2011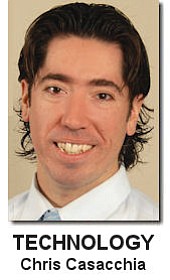 Irvine-based Broadcom Corp. expects its recent buy of Provigent Inc. to bring long-term benefits that will outweigh a short-term outlook that's expected to carry little or no gain this year.
Broadcom makes chips for computers, networking and consumer electronics and cell phones.
Israel-based Provigent makes chips for wireless network operators that allow for the transfer of voice, data and video signals from cellular base stations to their main network.
The chips are seen as a key part of a push by wireless service providers to offer faster downloads of information, video and music on their phones.
Provigent is expected to add revenue in the low millions for Broadcom for the current quarter, reflecting only part of the period since the deal closed late last month, according to Chief Financial Officer Eric Brandt.
The added revenue could be offset by the cost of the deal, Brandt said.
Broadcom will add about 100 employees from Provigent, which has its U.S. headquarters in Santa Clara. The company said it could see lower gross margins this quarter because of the deal.
Its first-quarter gross margin was 50.5%, up from 48.9% a year earlier.
Broadcom paid $313 million to acquire all of the outstanding shares and rights of Provigent.
The deal means that "Broadcom is uniquely able to offer service providers a complete platform of system solutions as they upgrade legacy mobile networks to 4G and manage the exponential growth in wireless data traffic," said Chief Executive Scott McGregor during a recent conference call with analysts and investors.
Broadcom is Orange County's biggest chipmaker with $6.6 billion in yearly sales, good enough to recently crack the top 10 of the largest chipmakers in the world for the first time.
Record sales and profits last year helped Broadcom outperform the overall industry and move up two spots in the rankings to No. 10, according to Stamford, Conn.-based market researcher Gartner Inc.
Demand increased for Broadcom's chips for tablet computers, smartphones, set-top boxes, broadband modems, networking gear and other products in 2010 but has slowed more recently.
Broadcom expects revenue in the current quarter to be roughly flat at $1.75 billion to $1.85 billion.
That would fall short of the $1.9 billion analysts had been expecting.
The company cited slowing sales of chips for smartphones to Nokia Oyj and Samsung Electronics Co.
The pending buy of Provigent brings Broadcom's acquisition of Israeli companies to eight.
Recent ones include Percello Ltd. for $86 million and Sightic Vista Ltd. for an undisclosed amount in November.
Prev Next