BEAUTY: SHOP TOUTS AMBIANCE, CLEANLINESS; PRICES DOUBLE RIVALS
Posh Nail Salons Competing With Discounters in Recovering Market
Saturday, May 7, 2011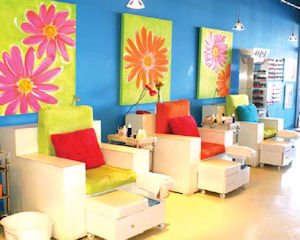 Cheap competition is one of the biggest challenges for any business, let alone an upscale nail salon.
Some women entrepreneurs are trying to carve out a niche here with salons that offer stylish decor, cleanliness and personal service in a business dominated by discount shops on just about every corner.
In a slowly recovering economy, more expensive salons have to justify their prices, which can run double or more what discount shops charge for manicures and pedicures.

"You really do get what you pay for," said Krissy Haiflich, owner of Rosey Toes on Newport Beach's Balboa Island. "Most likely, but not always, salons that offer such cheap prices are cutting back somewhere."
The national average for a manicure is $19, according to Nails Magazine. A pedicure averages $31.
At Rosey Toes, the cheapest manicure and pedicure runs $43. It costs $45 for a deluxe manicure and $60 for a premium pedicure.
Competing with cheaper salons is tough, according to Haiflich.
They typically have bigger spaces and can take in more clients, which affords lower prices.
Last month, Sherrie McCarter opened Retro Beauty Bar in Los Alamitos. McCarter, who runs her business with daughter Courtney McCarter, said there's enough room for upscale and cheap salons.
"They have a completely different clientele than we have," she said. "People call all the time and want to know the prices for our services. I always tell them what they are and then say, 'You really have to come in and experience our services in order to understand why we charge what we charge.'"
Vietnamese Salons, Price Wars
Upscale salons compete with discount nail salons run by Vietnamese immigrants, who've largely cornered the market in Orange County and beyond.
Vietnamese-owned nail salons account for about 40% of the U.S. nail market, according to an annual survey by Torrance-based industry publication Nails Magazine. That's followed by whites at 39%, Hispanics at 10%, African-Americans, 8%, Koreans, 2%, and others, 1%.
Vietnamese salons have expanded the business, according to Hannah Lee, associate publisher and editor of Nails Magazine
"Getting your nails done used to be a privilege for the upper class or upper middle class," she said. "Vietnamese-owned salons have made it more of a service for everyone."
Expansion of the industry has led to price wars.
"There are salons all over the place that are setting prices too low," Lee said. "There's no standard or across the board pricing that says you can't go below this."
Prev Next