CONNERY EFFECT, KISSING WHALES, $2.7M GOAL FOR STARS & STRIPES
'Knights' See Charity as Chivalry, Champion Kids' Causes
Sunday, June 12, 2011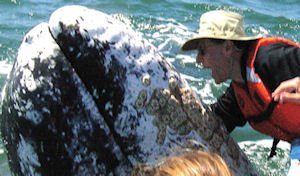 "They actually hug and kiss whales," Gebhard said.
Some who've been on the whale-kissing trip include Irvine-based Broadcom Corp. cofounder Henry Samueli and Jay "Sparky" Longley, founder of San Clemente-based Rainbow Sandals Inc.
"You will not see that on anybody else's auction," Gebhard said.

Registration is by individual and team.
The price for a team of four is $9,500, which includes everything from airfare to meals.
"You can leave your checkbook and your wallet at the airport and not pick it up until you get back," Gebhard said.
The event regularly sells out with 110 four-person teams.

The registration fee covers most of the cost to put on the event.
Stars & Stripes also has a slew of sponsors.
The title sponsor, with a donation of $125,000, is Sasco.
Anaheim's Acra Aerospace Inc. sponsors the golf. A. Gary Anderson Family Foundation, also of Anaheim, sponsors fishing. Newport Beach-based wealth manager Hollencrest Capital Management is the music sponsor.
For the first 10 years, the event was put on by Big Brothers Big Sisters of Orange County, which counted Gebhard and Ruck on its board.
About five years ago, Stars & Stripes became its own entity.
$12M So Far
It has donated about $12 million to date to local charities and others in Mexico.
"We always give 10% of the money we make to the people of Mexico," Gebhard said.
He said he chose the most passionate participants for knighthood, tapping people who came to the event year after year.
The knights meet about four times a year. They review the charities annually, sometimes changing the roster.
Golden State Foods Foundation provides the administrative support for the event.
"The Wetterau family have been vocal supporters of ours for years," Ruck said.

Mark Wetterau is chief executive of Irvine-based food distributor Golden State Foods Corp.
Stars & Stripes is a family affair.
Gebhard's wife, Debbie, and his son volunteer for the event. So does Ruck's daughter.
Ruck also takes his father to the event.
"He's 88 and loves to fish," Ruck said. "For five or six years, it was my dad, just the two of us. Last year I took my son."
While the charities are the beneficiaries, they also work for the money.
Board members and staffers from the various beneficiaries volunteer at the event and put together some of the live and silent auction packages sold at the event.
"We're called charity partners because we're a partner in the work and a partner in the results," said Autumn Strier, president of Tustin-based Miracles for Kids, which helps families who have kids at Children's Hospital of Orange County pay for expenses such as rent and groceries (see story, page 9).