CONNERY EFFECT, KISSING WHALES, $2.7M GOAL FOR STARS & STRIPES
'Knights' See Charity as Chivalry, Champion Kids' Causes
Sunday, June 12, 2011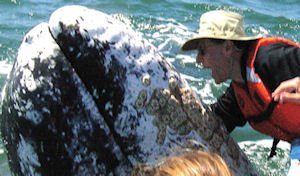 They call themselves "the knights."
Their noble mission: champion children's charities.
The group of six prominent Orange County businessmen counts on a four-day annual charity event fundraiser called the Stars & Stripes Fishing, Golf and Music Festival to get the job done.
This year's event is scheduled for June 23 to 26 at the Hilton Los Cabos Beach & Golf Resort in Cabo San Lucas.
It's set to raise money for several charities: Miracles for Kids and Big Brothers Big Sisters of Orange County, both of Tustin; Boy Scouts of America, Los Angeles Area Council; and Santa Ana-based Orangewood Children's Foundation.
Stars & Stripes expects to raise $2.7 million this year, with about 10% of the money going to charities in Mexico.
Who are these guys?
Al Baldwin is owner of Newport Beach-based developer Baldwin & Sons LLC. Tim Ryan is chief operating officer of the Anaheim Ducks and Honda Center. Jeff Cunningham is senior vice president of construction management services for Shea Properties in Aliso Viejo.
Larry Kirkenslager is senior vice president of pre-construction for Fullerton-based electrical contractor Sasco Electric Inc. Charles Ruck is partner at Latham & Watkin's Costa Mesa office.
Stars & Stripes chairman is Dick "Dicko" Gebhard, chairman of Santa Ana-based landscape company Pinnacle Holdings Group, owned by his son, Caden Gebhard.
Gebhard came up with the idea of the knights while watching a Sean Connery movie, "First Knight."

Corny
Gebhard cops to getting caught up.
"I'm as corny as you can get," he said.
The knights sit at a roundtable when they meet, sporting shirts that carry the title.
"He wants it to be fun," said Stacie Capobianco, assistant director of Stars & Stripes, which has a staff of two. "Dick is the oldest kid I have ever met."
The event attracts business owners, executives and their families.
"You see the same faces year after year," Gebhard said. "It has now turned out to be sort of a Woodstock."
Many who have second homes in Cabo San Lucas plan their vacations around the event, which includes fishing and golfing competition and live nightly entertainment and music.
Performers have included Jim Belushi and the Sacred Hearts and "mentalist" Brandon Cross.
Money is raised through registration fees, live and silent auction sales, donors and sponsors.
Stars & Stripes is known for its exotic auction packages—hunting trips to Argentina and kissing the whales in San Ignacio, Mexico, to name a couple.
Prev Next