'Knights' See Charity as Chivalry, Champion Kids' Causes
CONNERY EFFECT, KISSING WHALES, $2.7M GOAL FOR STARS & STRIPES
Sunday, June 12, 2011
Share this article: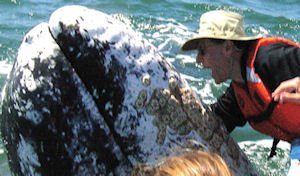 They call themselves "the knights."
Their noble mission: champion children's charities.
The group of six prominent Orange County businessmen counts on a four-day annual charity event fundraiser called the Stars & Stripes Fishing, Golf and Music Festival to get the job done.
This year's event is scheduled for June 23 to 26 at the Hilton Los Cabos Beach & Golf Resort in Cabo San Lucas.
It's set to raise money for several charities: Miracles for Kids and Big Brothers Big Sisters of Orange County, both of Tustin; Boy Scouts of America, Los Angeles Area Council; and Santa Ana-based Orangewood Children's Foundation.
Stars & Stripes expects to raise $2.7 million this year, with about 10% of the money going to charities in Mexico.
Who are these guys?
Al Baldwin is owner of Newport Beach-based developer Baldwin & Sons LLC. Tim Ryan is chief operating officer of the Anaheim Ducks and Honda Center. Jeff Cunningham is senior vice president of construction management services for Shea Properties in Aliso Viejo.
Larry Kirkenslager is senior vice president of pre-construction for Fullerton-based electrical contractor Sasco Electric Inc. Charles Ruck is partner at Latham & Watkin's Costa Mesa office.
Stars & Stripes chairman is Dick "Dicko" Gebhard, chairman of Santa Ana-based landscape company Pinnacle Holdings Group, owned by his son, Caden Gebhard.
Gebhard came up with the idea of the knights while watching a Sean Connery movie, "First Knight."

Corny
Gebhard cops to getting caught up.
"I'm as corny as you can get," he said.
The knights sit at a roundtable when they meet, sporting shirts that carry the title.
"He wants it to be fun," said Stacie Capobianco, assistant director of Stars & Stripes, which has a staff of two. "Dick is the oldest kid I have ever met."
The event attracts business owners, executives and their families.
"You see the same faces year after year," Gebhard said. "It has now turned out to be sort of a Woodstock."
Many who have second homes in Cabo San Lucas plan their vacations around the event, which includes fishing and golfing competition and live nightly entertainment and music.
Performers have included Jim Belushi and the Sacred Hearts and "mentalist" Brandon Cross.
Money is raised through registration fees, live and silent auction sales, donors and sponsors.
Stars & Stripes is known for its exotic auction packages—hunting trips to Argentina and kissing the whales in San Ignacio, Mexico, to name a couple.
"They actually hug and kiss whales," Gebhard said.
Some who've been on the whale-kissing trip include Irvine-based Broadcom Corp. cofounder Henry Samueli and Jay "Sparky" Longley, founder of San Clemente-based Rainbow Sandals Inc.
"You will not see that on anybody else's auction," Gebhard said.

Registration is by individual and team.
The price for a team of four is $9,500, which includes everything from airfare to meals.
"You can leave your checkbook and your wallet at the airport and not pick it up until you get back," Gebhard said.
The event regularly sells out with 110 four-person teams.

The registration fee covers most of the cost to put on the event.
Stars & Stripes also has a slew of sponsors.
The title sponsor, with a donation of $125,000, is Sasco.
Anaheim's Acra Aerospace Inc. sponsors the golf. A. Gary Anderson Family Foundation, also of Anaheim, sponsors fishing. Newport Beach-based wealth manager Hollencrest Capital Management is the music sponsor.
For the first 10 years, the event was put on by Big Brothers Big Sisters of Orange County, which counted Gebhard and Ruck on its board.
About five years ago, Stars & Stripes became its own entity.
$12M So Far
It has donated about $12 million to date to local charities and others in Mexico.
"We always give 10% of the money we make to the people of Mexico," Gebhard said.
He said he chose the most passionate participants for knighthood, tapping people who came to the event year after year.
The knights meet about four times a year. They review the charities annually, sometimes changing the roster.
Golden State Foods Foundation provides the administrative support for the event.
"The Wetterau family have been vocal supporters of ours for years," Ruck said.

Mark Wetterau is chief executive of Irvine-based food distributor Golden State Foods Corp.
Stars & Stripes is a family affair.
Gebhard's wife, Debbie, and his son volunteer for the event. So does Ruck's daughter.
Ruck also takes his father to the event.
"He's 88 and loves to fish," Ruck said. "For five or six years, it was my dad, just the two of us. Last year I took my son."
While the charities are the beneficiaries, they also work for the money.
Board members and staffers from the various beneficiaries volunteer at the event and put together some of the live and silent auction packages sold at the event.
"We're called charity partners because we're a partner in the work and a partner in the results," said Autumn Strier, president of Tustin-based Miracles for Kids, which helps families who have kids at Children's Hospital of Orange County pay for expenses such as rent and groceries (see story, page 9).
Strier said she volunteered at the event and got to know the knights before Miracles for Kids became involved.
"Autumn's a rock star," Gebhard said. "She's a perfect example of what we're trying to do."
Instead of building her own event, she's tag-teaming on Stars & Stripes, which has 15 years behind it, Gebhard said.
Last year, Strier said the event raised $250,000 for her group.
The charities keep whatever amount of money they sell in the auctions. The knights have discretion as to how much additional money each gets.
"If you make $100,000 we might match $100,000," Gebhard said. "If you didn't work and you made $7,000 we might give you $7,001."
Other donors provide matching grants.
Samueli provides one for Orangewood Children's Foundation.
Inspiration
Gebhard, who has a home in Cabo San Lucas, said his father inspired a main theme of the charity event. "The best time I remember with my dad was fishing," he said.
In the event's first year, Gebhard bought 100 tickets on Alaska Airlines and 50 hotel rooms.
"We started 15 years ago on a wing and a prayer," Gebhard said.
He called everyone he knew to get people to come.
The event sold out and raised $36,000 the first year.
"If you know you got to do something you do it," Gebhard said.