WOMEN IN BUSINESS
On Purpose
Sunday, June 5, 2011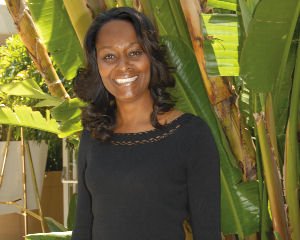 Scharrell Talley Jackson is in the midst of helping wrap up a third acquisition in five years for Newport Beach-based accounting firm Squar, Milner, Peterson, Miranda & Williamson LLP.
For Jackson, who serves as Squar Milner's chief financial and administrative officer, blending different operations and corporate cultures is just one part of the job.
"I wear a number of hats," she said. "I might be managing and overseeing finance and renewing leases one minute, and then later I may be overseeing a major remodel or executing a merger."
Jackson was one of five women honored at the Business Journal's 17th annual Women in Business award luncheon May 25 at the Hyatt Regency Irvine.
"Every day I ask the lord to plant my feet solid on the ground and give me the ability to walk in my purpose," Jackson said.
She thanked a number of colleagues in the crowd and credited her mother, Deborah Willard Cunningham, and her late grandmother for inspiration.
Jackson's list of responsibilities include financial management and reporting, accounting, human resources and information technology operations at the largest accounting firm with its headquarters here.
Jackson counts her work on the last three acquisitions by Squar Milner as accomplishments of particular pride.
Growth
The firm has been on a tear in recent years.
It now has four offices outside Orange County, with two in Los Angeles and others in San Diego and the Cayman Islands.
Jackson currently is working on the firm's latest buy, the tax practice of White, Zuckerman, Warsavsky, Luna & Hunt LLP in Los Angeles.
Jackson assisted with bringing San Diego accounting firm Peterson & Co. into Squar Milner's fold after a buy in 2006. Jackson had about 90 days to complete the integration of Peterson, which had $5 million in yearly revenue at the time.
Two years later, Squar Milner bought Thomashow, Brown & Paialii LLP in Los Angeles.
"The greatest challenge is the expectations and timetable in which I'm expected to get organizations completely merged," she said.
Jackson joined Squar Milner in 2000 after spending six years in construction and interior design as a controller and vice president of finance. Her 20-year career has spanned industries from real estate to manufacturing.
"I've never really looked at the next opportunity based on industry," Jackson said. "I look at it more from the standpoint of what I can bring to the organization. An effective CFO really does not have to be industry specific."
Prev Next