BORAS TRACKS EACH PITCH, BEER SALE FOR BIG CLIENTS
Money Ball
Sunday, June 5, 2011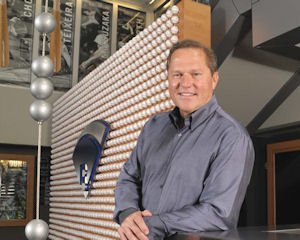 A computer room in a furnished basement is considered "his baby," according to employees.
Boras can rattle off baseball revenue figures for the past 20 years and pinpoint the economics of the game at the time of each of his blockbuster deals.
"We really know what the revenues of the teams are, and we go out of the way to do that," Boras said. "We have a research team that deals with every aspect of baseball."
If revenue goes up or down, then a player's value should reflect that, according to Boras.
Fans' Take
That's hard to swallow for some.
Take fans of the financially struggling New York Mets, who have watched Boras client Carlos Beltran soak up a $119 million, seven-year deal that ends this year.
In a recent profile by Jeffrey Toobin in The New Yorker, Mets owner Fred Wilpon called himself a "schmuck" for signing the outfielder "based on that one series" in the 2004 postseason when Beltran blasted eight home runs with the Houston Astros.
In all, Boras represents about 150 clients, many of them the game's biggest stars and highest paid players, including Milwaukee Brewer Prince Fielder, St. Louis Cardinal Matt Holliday and New York Yankee Robinson Cano.
He inked the 2008 deal for New York Yankee Alex Rodriguez—potentially worth $300 million over 10 years. The contract is baseball's biggest for now and topped previous record setting deals by Boras.
But Boras soon could see his contract record broken.
He doesn't represent St. Louis Cardinal Albert Pujols, who could become baseball's highest paid player as a free agent this offseason.
Boras said he never got a shot at landing Pujols, who's represented by independent agent Dan Lozano, who now also represents Rodriguez.
The market stands to dictate what kind of deal Pujols may get, according to Boras.
For some, Boras represents what's wrong with professional sports: greed, power and skyrocketing contracts.
Image
Boras said his image has been distorted. The assumption that he's adversarial is more media folklore than reality, he said.
"I don't view negotiating that way," Boras said. "We represent some of the best players in the game. When revenues go up, the value of the greatest performances go up. So consequently we're seeking contracts that have never been sought before, and that makes it appear to the average fan that it's nonsensical."
Even so, he said he understands how fans feel.
"I was raised on a farm, and we didn't have much," said Boras, who grew up in the Sacramento area. "Believe me, I clearly understand. But do we want the money going to a multimillion player or to a billionaire owner?"