BORAS TRACKS EACH PITCH, BEER SALE FOR BIG CLIENTS
Money Ball
Sunday, June 5, 2011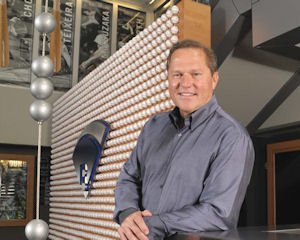 Scott Boras has built a baseball dynasty in Newport Beach.
The game's most powerful agent, Boras represents some of baseball's biggest names with a string of record breaking contracts under his belt.
"We want these contracts to work out," Boras said. "If they do, it's best for the fans, it's best for the owners and it's best for us for repeat business."
His business goes beyond deals: Boras also runs other companies that seek to enhance the careers of his athlete clients and help them manage their money.
Lawyers, psychologists, accountants and statisticians all are on the payroll at Boras Corp. Players have access to their services for free. It's one of the perks of playing on Team Boras.
"The reason we give them all that is so they can execute their contracts and grow their careers," Boras said.
Endorsements and charitable and public relations opportunities for players are handled by Boras Marketing.
Boras Sports Training Institute, a multimillion-dollar campus in Aliso Viejo, is run by track and field star Steve Odgers, a former 13-year conditioning director for the Chicago White Sox.
PMC Financial provides tax help, investment counseling, estate planning, identity theft prevention and other services.
Long Shadow
Boras casts a long shadow in baseball, having turned players into multimillionaires and proven himself a worthy counterpoint to the game's well-heeled owners.
For such a high-profile personality, he runs a relatively quiet operation in Newport Center. The headquarters is part tech-savvy office, part ultimate man cave.
The building often serves as a luxury rest stop for Boras' weary road travelers—clients and employees alike. Some nights it doubles as an entertainment complex for clients on off days, with a digital scoreboard in the conference room and 70 flat screens that show baseball games and display player profiles.
Sliding glass doors lead to a patio rivaling most Laguna Beach beer gardens, complete with stylish tables, a pool table and fire pit.
A chef is on call to cook up meals.


Other times, deals get done at the building.
Boras is a lawyer by trade who played five years of minor league baseball for the St. Louis Cardinals and Chicago Cubs. Knee problems ended his playing career.
He's as meticulous as they come.
More than $6 million has been spent on a database that tracks every pitch, gate receipt, broadcast deal and even estimates beer sales.
The collection provides Boras endless streams of usable data at a moment's notice—on and off the field.
Prev Next