FUNDRAISER FOR SICK CHILD LED TO NONPROFIT, LEMONAID, 'INOCULATION TO ENTITLEMENT'
Hudash, Team Kids Spark Passion in Youth, Donors
Sunday, June 5, 2011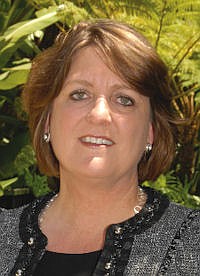 Everyone told Laura Baden she had to meet Julie Hudash.
Hudash heads Team Kids Inc., an Irvine-based nonprofit that helps school kids become more civic-minded through community service programs that involve police officers, firefighters and other mentors.

Baden, a volunteer and philanthropist with a lot already on her plate, was reluctant.
Once she met Hudash, she was all in.
"She's passionate," Baden said. "For her, it's all about the kids."
Hudash exudes her passion in a way that draws people to her cause.
She was one of five honorees at the Business Journal's 17th Annual Women in Business awards May 25 at the Hyatt Regency Irvine.
Baden and her husband, Colin Baden—chief executive of Foothill Ranch-based Oakley Inc.—volunteer for Team Kids and are the group's largest donors. They host one of its yearly fundraisers at Oakley.
Laura Baden, a past board president, helped Hudash write Team Kids' first business plan.

"I really learned how to be a businesswoman from Laura Baden," Hudash said.
Hudash founded Team Kids in 2001 in response to an article she read about an Irvine boy suffering from a rare heart defect.

She rallied school kids to raise money to help the boy's parents pay medical expenses.
They sold popsicles and held a pancake breakfast.
"Kids were trying to save this little boy's life," she said.
They raised $35,000.
The boy recently graduated from sixth grade.

The effort confirmed Hudash's long-held belief: "Our young people are our most untapped resource in this world."
"They want to change the world—they want to solve problems," she said. "Nothing is impossible to an eight year old."
Team Kids' LemonAID program raises money for charities through lemonade stands.
About 1,200 kids with 225 stands raised $11,000 for Hurricane Katrina survivors. Most recently LemonAID raised about $41,000 in 20 days to help survivors in the aftermath of Japan's earthquake and tsunami.
"But raising money is not our mission at all—it's just a by-product," Hudash said. "Our mission is raising responsible children ready for the 21st century."
Team Kids recently garnered national attention, taking part in NBC anchor Brian Williams' Education Nation series.
Team Kids Challenge, the nonprofit's flagship program, is a month-long series of volunteer projects that range from helping the homeless to protecting the environment.
The kids fulfill a "challenge" each week, such as collecting books to donate. In the last week, the kids create and put on a carnival at their school.
Prev Next