REAL ESTATE: EMMES SEEN AS LIKELY BUYER IN DISTRESS SALE
Deal Said Near on Newport Beach Chipmaker HQs
Sunday, June 5, 2011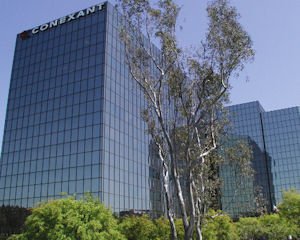 The Newport Beach office complex that holds the headquarters of chipmakers Conexant Systems Inc. and spinoff Mindspeed Technologies Inc. could see a change in ownership soon, according to real estate sources.
4000 MacArthur—a pair of 10-story office buildings at MacArthur Boulevard and Jamboree Road—could be sold in a lender-driven deal, according to reports in real estate trade publications.
New York's Emmes Group of Cos., a real estate investor that owns a nearby office tower at 3161 Michelson Drive in Irvine, is said to be the most likely new owner for the complex, which last changed hands in 2006.
The Newport Beach buildings, part of the Koll Center Newport development near John Wayne Airport, now are owned by New York-based Tishman Speyer Properties LP.
Tishman paid about $134 million, or $365 per square foot, for the two office towers in 2006. It was the third largest office sale seen in Orange County that year.
Tishman has listed the complex for sale at various times since then. Near the peak of the last commercial real estate boom it hoped to fetch more than $150 million for the buildings.
The company eventually opted to hold on to the complex. It's Tishman's only office property in OC, according to the company's website.
Emmes earlier this year bought a $40 million junior portion of a $100 million mortgage tied to the property, according to a report in trade publication Real Estate Alert.
It paid about 80 cents on the dollar for the mortgage, which had been held by Wells Fargo & Co., according to the report.
Emmes is likely to foreclose on Tishman and take the property over, according to the Real Estate Alert report.
Officials for Emmes last week declined to comment.
Tenants
Mindspeed leases about 97,000 square feet at the complex, according to regulatory filings. Conexant has about 106,000 square feet at the complex—which totals about 383,000 square feet.
The complex is about 80% occupied, according to data from CoStar Group Inc.
The two buildings are next to a separate 25-acre parcel of land and buildings that were sold late last year by Conexant.
The chipmaker sold the property to a venture headed by Irvine-based real estate investment company Shopoff Group LP.
While a change in ownership for 4000 MacArthur now is expected, sources note that Tishman has surprised local market watchers before by holding on to some of its largest tenants when it appeared that relocations were likely.
Prev Next