Analyst: Broadcom May Rival Qualcomm in Key Chip
COMPANY NOW SMALL BUT EXPANDING IN PROCESSORS
Sunday, June 5, 2011
Share this article: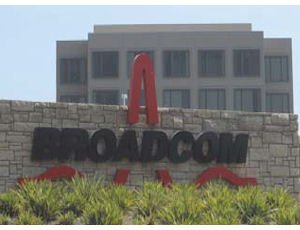 Irvine chipmaker Broadcom Corp. eventually could come to rival San Diego-based Qualcomm Inc. in processor chips for mobile phones, according to an analyst.
An analyst at Arlington, Va.-based FBR Capital Markets Corp. late last month put Broadcom's shares on FBR's top picks list, based on its prospects in what are known as baseband chips, the brains of mobile phones.
Broadcom now is a smaller, growing provider of baseband chips, which are dominated by Qualcomm, Taiwan's MediaTek Inc. and Dallas-based Texas Instruments Inc.
Broadcom saw "triple-digit" gains in baseband shipments last year with sales to Nokia Corp. and Samsung Group, according to market tracker Strategy Analytics of Massachusetts.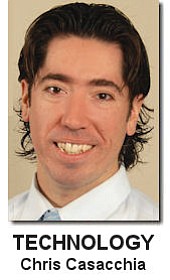 "Investors remain focused on wireless, specifically baseband growth opportunities," the FBR analyst wrote in a note to clients. "In short, we believe Broadcom remains positioned to someday be the world's second-largest baseband supplier."
That would be a big jump for Broadcom, which also faces competition from Intel Corp. with its acquisition of the wireless chip business of Germany's Infineon Technologies AG last year.
An industry push toward 4G—or fourth generation phones that allow for high-speed downloading of video and music and offer more processing power—"represents a large growth opportunity" for Broadcom in next few years, according to FBR.
To make room for Broadcom, FBR removed Irvine-based chipmaker Microsemi Corp. from its top picks list.
Broadcom's mobile and wireless unit made up 43% of the company's $6.8 billion in 2010 sales. A good chunk of the unit's revenue comes from Bluetooth, Wi-Fi and other chips used in computers, video game consoles and other devices.
Sales of chips for mobile phones are estimated at more than $100 million.
Chips that drive mobile phones are more of an emerging market for Broadcom, which also makes chips for set-top TV boxes, high-speed modems, corporate networking gear and other products.
Samsung and Nokia have been key drivers for Broadcom's mobile phone chips. The company also has chips in Apple Inc.'s iPhone.
Broadcom makes a wireless chip that handles Wi-Fi and Bluetooth connections for the iPhone. It also supplies a chip to receive signals from global positioning system satellites used in navigation applications.
Solarflare
Irvine's Solarflare Communications Inc., one of the area's best-funded chip startups, has raised another $20.5 million, according to a filing last week with the Securities and Exchange Commission.
The company plans to use the money to build its products, according to Chief Executive Russell Stern.
Solarflare makes networking chips and circuit boards that help bridge old networks with new ones.
The latest funding will "bolster the development of our next generation controllers and build out sales and marketing efforts to promote and spread our service adapter business," he said.
Solarflare has carved out a niche in the last year selling its speedy data networking circuit boards directly to banks, hedge fund managers, stock exchanges, brokerages and other financial institutions.
That has been a marked shift from the company's initial strategy to sell chips to server manufacturers themselves.
Solarflare was named the fastest growing high-speed server adapter company late last year by Redwood City-based market tracker Dell'Oro Group.
That market segment is projected to grow to nearly $1.5 billion by 2015.
The company has raised more than $200 million in venture funding since starting in 2001.
Phone Software Deal
Foothill Ranch-based Applied Voice & Speech Technologies Inc., which makes software that manages companies' telephone systems, bought some assets from Seattle's Beacon Solutions Inc.
Beacon integrates communication and information networks for businesses.
Financial terms of the deal weren't disclosed.
The deal marks the third for Applied Voice in the past year and provides an entryway into providing specific applications geared for the healthcare and medical industries, according to Chief Executive Hardy Myers.
"We felt that area is so important for our customers that we decided to bring that capability in house," Myers said.
Applied Voice runs a development and testing outfit in the Seattle area and will fold Beacon into that operation.

The deal also adds customers around the world for Applied Voice, Myers said.