Menlo Buys at Summit, Sold on OC Market
REAL ESTATE: SILICON VALLEY FIRM EYES BIG TENANTS, MORE DEALS
Sunday, December 4, 2011
Share this article: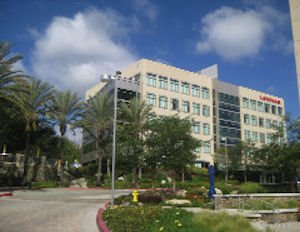 Palo Alto-based Menlo Equities LLC, one of the most active buyers of commercial real estate in Orange County over the past year, has snapped up another two offices in Aliso Viejo and has its eyes on more local deals.
The real estate in-vestor recently closed on the acquisition of 15 and 25 Enterprise, a pair of five-story offices built about 10 years ago in Aliso Viejo's Summit Office Campus.
The two buildings, which total about 295,000 square feet, run alongside the San Joaquin Hills (73) Toll Road and hold the local operations of Miami-based homebuilder Lennar Corp., among other tenants.
The latest deal brings Menlo Equities' local portfolio to about 1.1 million square feet, with a majority of that purchased over the past year.
The company has spent an estimated $200 million on OC office and industrial buys since mid-2010, snapping up a number of high-profile properties in the area around John Wayne Airport as well as in Aliso Viejo.
More OC deals are expected going forward, according to Henry Bullock, Menlo's chairman and founder.
"[It] is Menlo's intention to be among the most active buyers in Orange County for at least the next 12 to 24 months," Bullock said in an email last week.
Menlo was founded in 1994 to invest in and develop properties in Silicon Valley. Since then the company is said to have acquired or developed about $1.4 billion of property nationwide.
"[Silicon Valley] historically is a boom-and-bust market, with the 2001-03 bust being the most obvious," Bullock said. "Our principals believe that Orange County experienced a similar bust in the recent downturn due to its concentration of mortgage origination businesses. Consequently, rents and building values presently are extremely low."
Orange County's positive attributes now "create an exceptional buying opportunity," Bullock said.
"Menlo Equities can move quickly in acquiring properties and has a long-term proprietary source of equity," he added. "We anticipate Orange County will be a market for us for decades to come."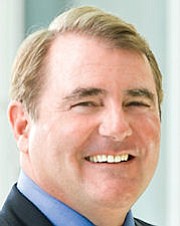 Local Acquisitions
The company's local acquisitions have included some well-leased properties, in addition to a few buildings, such as Irvine's 420,000-square-foot Quintana office campus, that count more than their share of empty space and were bought well below peak-market prices.
CoStar Group Inc. data show 15 Enter-prise to be 68% full, while 25 Enterprise is 90% occupied, although marketing brochures for that building shows two full floors of space being available for lease starting in December.
"In Silicon Valley, Menlo's typical tenant size is 50,000 square feet and up," Bullock said. "It is our experience that big tenants fill big buildings. Because Menlo Equities is a long-term investor, we are in a position to be patient and fill our buildings with large tenants of the highest credit quality."
Terms of the 15 and 25 Enterprise sales weren't disclosed. Sources not involved in the transaction estimate the two buildings sold in the $45 million range, which is less than half of what the buildings were valued at near the peak of the market.
The deal also included the sale of a six-level, roughly 1,150-stall parking structure.
An affiliate of Allianz of America Inc. sold the property.
Allianz, part of Germany's Allianz SE, Europe's biggest insurer, had taken over ownership of the two buildings in early 2010 from the building's prior owner in a debt-driven move.
It's the second big purchase in Aliso Viejo of late for Menlo Equities.
The company paid nearly $18 million in April for a three-building office complex along Aliso Creek Road. Those two-story buildings, located on an 8.4-acre site a little less than 2 miles away from 15 and 25 Enterprise, total about 124,100 square feet.
Other than its Aliso Viejo holdings, a bulk of Menlo Equities' local portfolio is centered in Irvine, along a few block stretch near Von Karman Avenue and Main Street.
Late last year, it bought the four-building, Quintana campus late last year for an estimated $69 million.
A few months ago, Menlo Equities closed on the acquisition of 17871 Von Karman Ave., a 420,000-square-foot warehouse and data center property next to Quintana.
Brokerage reports put the sale of the largely full Von Karman property at about $47 million.
The two Aliso Viejo buildings that Menlo Equities just bought have seen their share of headlines in recent years.
The offices were built in 2001 through a venture led by Aliso Viejo-based Parker Properties LP, developer of the 1.8 million-square-foot Summit Office Campus.
Parker sold a majority of its interest in the two buildings to RREEF America LLC, a real estate investment unit of Germany's Deutsche Bank AG, in 2007.
CalSmart LLC, a partnership of RREEF and the California Public Employees' Retire-ment System, also had been an investor in the project, according to sources.
Early last year, the Business Journal reported that RREEF opted not to keep making debt payments on the two buildings, turning the property over to its lender, Allianz, through a deed-in-lieu of foreclosure.
The two buildings' most notable tenant has been Lennar, whose day-to-day operations are largely run out of the 25 Enterprise building while being headquartered in Miami.
The homebuilder signed a 137,352-square-foot lease at the building back in 2003, moving several hundred workers from Mission Viejo and other local offices.
Lennar cut back its local operations and moved to sublease much of that space as the housing market started to sour.
The 2003 lease, which is believed to end late this year, was valued at about $27 million at the time it was struck—putting Lennar's monthly rents at roughly $2.18 per square foot.
Asking monthly lease rates for the building now run at $2.20 per square foot, according to brokerage data.