REAL ESTATE: AEW ADDS 2050 MAIN TO LOCAL PORTFOLIO
Airport Area Office Deal Tops $100M
Sunday, December 4, 2011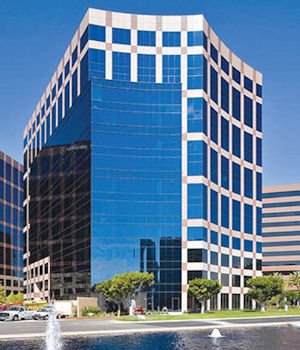 Boston-based institutional investor AEW Global has closed on the purchase of the 2050 Main Street office tower in Irvine, the priciest office sale seen in Orange County this year.
Affiliates of AEW paid about $108.5 million for the four-year-old, 13-story building in the Irvine Concourse office campus near John Wayne Airport, according to sources familiar with the deal.
It's the first Irvine office to sell at a price topping $100 million in nearly 18 months.
The 314,000-square-foot property traded hands at a price close to $345 per square foot, sources said.
That type of per-square-foot price is close to what was seen near the peak of the market, in 2007, when high-profile offices in the airport area traded hands at prices approaching the $400-per-square-foot mark.
The pricing for 2050 Main reflects the building's quality, location and strong occupancy rates, according to market watchers.
The building is a little more than 80% leased and counts tenants including Tustin-based Sunwest Bank, whose name tops the tower.
"With the market uncertainty, institutional buyers are willing to pay more for core assets," said one real estate source familiar with the deal.
AEW Global and its affiliated companies provide real estate investment management services to a variety of institutional and private in-vestors.
The company currently man-ages more than $48 billion of real estate assets and securities, with about half of the portfolio based in North America, according to AEW's website.
Other local office properties the company's affiliates own or operate include part of Newport Beach's Bayview Corporate Center along Jamboree Road, as well as a pair of buildings along Imperial Highway in Brea.
The deal appears to be a home run for the office tower's prior owners, who owned the property for a little less than two years and appear to have nearly doubled their money in that time.
Newport Beach-based real estate investor Greenlaw Partners and backers Westbrook Partners LLC of New York and Walton Street Capital LLC of Chicago paid $56 million for the building in 2009.
The building was acquired for a sum well below construction costs from the lenders of Phoenix-based developer Opus West Corp., which went bankrupt in 2009, about two years after building the office.
Bank of America was the property's main lender and sold the tower to the Greenlaw partnership.
The building, which op-ened in mid-2007, was about 30% full at the time of the prior sale.
Tenants at the building now include law firms Fisher & Phillips LLP of Atlanta and San Diego-based Luce, For-ward, Hamilton & Scripps LLP, as well as Sunwest Bank and Los Angeles-based accounting and management consulting firm SingerLew-ak.
The 2050 Main office is one of several high-end office towers built in the area around John Wayne Airport during the last construction boom to have traded hands.
Among other recently built Irvine office towers, Maguire Properties Inc.'s former 3161 Michelson Drive tower was sold to New York-based Emmes Group of Cos. in a debt-driven deal in 2009 for about $160 million, or $300 per square foot.
Last summer, Los Angeles-based Kilroy Realty Corp. paid about $103 million, or nearly $380 per square foot, for the 2211 Michelson Drive office, which is nearly full.