Allergan Eyes New Botox Uses, Spending on R&D
Sunday, April 10, 2011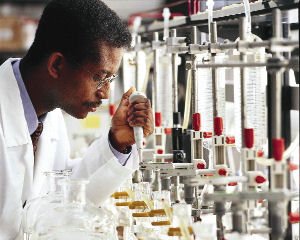 No. 5 Allergan Inc.
• Headquarters: 2525 Dupont Drive, Irvine
• Employees: 9,772; 3,693 in OC
• Business: Drug maker
• Market value as of April 1: $22.3 billion
• 2010 revenue: $4.9 billion, up 9%
• 2010 income: $4.9 million, down 99%
Year in Review
Allergan, the maker of eye and skin drugs as well as wrinkle-reducing Botox and other medical cosmetics, posted solid 2010 revenue growth as the economy continued its recovery.
In late 2010, Allergan got much-coveted approval by the Food and Drug Administration to use flagship Botox for treating chronic migraine headaches. Analysts have said that Botox for migraine could add as much as $500 million in annual sales for the drug, which already is at more than $1 billion yearly.
Overall, 2010 was a busy year for product approvals for Allergan, including British approval for Botox for migraine a few months before its U.S. nod.
The company also got a thumbs-up from the FDA to use its Lap-Band weight-loss stomach bands in patients who are overweight but not morbidly obese by federal guidelines. Some 70% of Americans are considered overweight or obese by body mass index standards.
Allergan dealt with some regulatory issues last year. It paid the government $600 million to settle a probe of Botox marketing practices, a settlement that affected its 2010 profit numbers.
On the personnel front, longtime company President F. Michael Ball said last month he'll leave to become the chief executive of Hospira Inc., a diversified drug and device maker from Lake Forest, Ill. Chief Executive David Pyott plans to resume the president's role.
What's Ahead
Allergan issued another tepid 2011 forecast, influenced by healthcare reform costs, price cuts in Europe and an expected increase in research and development spending.
The drug maker is planning to spend about 16% of its projected sales this year to "reload our pipeline," Pyott said.
Allergan is working on other uses for Botox, including as a treatment for overactive bladder. It also has ongoing collaboration efforts with other drug makers, including a development deal with Irvine's Spectrum Pharmaceuticals Inc. on apaziquone, a potential drug for bladder cancer.
Pipeline products include a new formulation of its Restasis eye drug, Restasis X, along with continued development work on Latisse for hair regrowth. Latisse now is approved to grow eyelashes.
Wall Street's Take
Investors' love affair with Allergan's historical pattern of under-promising and over-delivering continues, albeit at a less torrid pace. During the past 12 months, Allergan shares are up 11% with a market value of $22 billion.
Allergan should benefit from the Botox migraine approval, an expected recovery in medical cosmetics and steady sales of its mainstay eye drugs, according to analyst Seamus Fernandez of Leerink Swann LLC in Boston.