BANKS BLAME LOWER DEMAND FOR FEWER LOANS; PICK UP BUSINESS FROM FAILED COMPETITORS
Lending Drag
Monday, November 9, 2009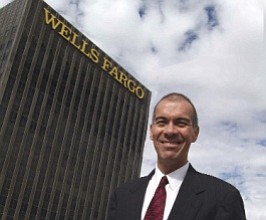 Bigger banks are looking at other ways to grow—mainly through acquisitions.
Some of the biggest examples are Charlotte, N.C.-based Bank of America, which bought Merrill Lynch & Co.; and San Francisco-based Wells Fargo & Co., which bought Wachovia Corp.
Wells Fargo says its local business lending grew this year, but it didn't give a dollar amount.
"It's slower than the double-digit growth we're used to," said Hector Retta, regional president for Wells. "We see a lot of cautious attitudes—lots have deferred taking on loans."
Wells is looking to change that by targeting manufacturers in the north part of the county. The offensive will be run by veteran banker MaryLou Barreiro, who relocated with the bank to Anaheim from New Jersey.
But a competitor doesn't see manufacturers as a huge growth area.
Ash Patel, president of Anaheim-based Premier Commercial Bank who also targets manufacturers for customers in the area, says the new competition won't change much for him.
"Our lending is flat," Patel said. "It's hard to find borrowers."
Premier Commercial's assets were up nearly 3% to $398 million for the 12 months through June.
Like most lenders, Patel says he's very careful about who he lends to.
Irvine-based CommerceWest Bank Chief Executive Ivo Tjan says his lending also is up modestly compared to last year.
CommerceWest bought San Marcos-based Discovery Bancorp in the third quarter, which added $170 million to its assets for a total of more than $422 million.
It's also picked up customers from other failed competitors, Tjan said.
"Some banks are no longer around," he said.
Tustin's Sunwest Bank picked up some of those closed banks, including Irvine's MetroPacific Bank and First State Bank of Arizona earlier in the year.
"Lending has been steady this year, which is a pleasant surprise," said Sunwest President Glenn Gray. "A lot of competitors have pulled back."
As many economists begin to forecast better economic times next year they also hope bankers will lend more.
Irvine's Plaza Bank says it's seeing opportunities with manufacturing, wholesale and professional service companies.
The bank grew its assets by 115% to nearly $160 million as of June 30 as it added $64 million in deposits.
"We anticipate growth as a result of improving economic trends," said Executive Vice President Shawn Cardin.
Wells Fargo also sees some things getting better with a recent increase in applications for loans.

"I think we're going to see the local environment get more competitive again," Retta said.
Prev Next