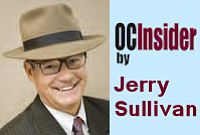 Jerry Sullivan is editor of the Business Journal. He directs the paper's coverage and layout and oversees a team of award-winning reporters. He also oversees the paper's website. He can be reached at sullivan@ocbj.com.
Recent Stories
A single day last week bought a plethora of practical and poignant reminders that business is about continuing education at is core …
April 24, 2017 midnight
share »
Could there have been any doubt that something unique would happen when the Shea Center for Therapeutic Riding put Jim Doti and Jim Peterson on stage together?
April 17, 2017 midnight
share »
Check the front-page story on the biggest publicly traded companies based in OC, and you'll get in sync with Catherine Wood, founder, CEO and CIO of ARK Invest, which specializes in active ETFs that aim to get their arms around the much-ballyhooed, often-misunderstood "disruptors" of today's business world.
April 10, 2017 midnight
share »
Chuck Martin grew up in modest circumstances, but there was nothing modest about his brains and drive—the stuff that got him to Ohio State, where he worked 40 to 50 hours a week at minimum-wage jobs while gobbling up knowledge at a pace that earned him a B.S. degree with five majors: mathematics, physics, chemistry, electrical engineering, and business.
April 3, 2017 midnight
share »
Mohamed El-Erian did what any dad who happens to be a globally renowned economic forecaster might do if his young kid expressed a desire to go into show business—he set a benchmark.
March 27, 2017 midnight
share »
The music was lovely and the dancing superb, but it was the dreamily effective costumes and stage designs for "Whipped Cream" that made the American Ballet Theatre's redux of the 1924 Viennese affair feel like just the right performance to celebrate South Coast Plaza's 50th birthday with a March 15 worldwide debut at the Segerstrom Center …
March 20, 2017 midnight
share »
Céad míle fáilte to Tom Donovan, whose fine Irish surname might not sound like a natural match for the Italian influences of the Resort at Pelican Hill, where he signed on as managing director just in time for St. Patrick's Day and is slated to report for duty later this month.
March 13, 2017 midnight
share »
"There and back" can carry myriad meanings—and become more interesting when folks get specific.
March 6, 2017 midnight
share »
Who figured a university with fewer than 10,000 students nestled on a quaint campus just up the street from the old-timey, Middle American look and feel of the Orange Plaza would become a showcase of modern immigrant engagement and achievement that drives forward in spite of all the political palaver and high emotions attached to the subject these days?
February 27, 2017 midnight
share »
You don't necessarily have to do a lot to get a fresh perspective—sometimes a slight shift in vantage point is all it takes …
February 20, 2017 midnight
share »