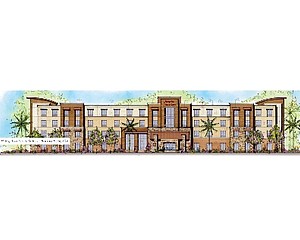 Properties Coming Soon For Smaller, Local Clients
Local data show at least eight Orange County hotel projects are under way, several that are scheduled to open in the next six months, and most notable for something they'll have in smaller amounts than just about any property in OC: meeting space.
AEROSPACE: EnCore Group 'has that same flavor'
The seat-manufacturing unit of Huntington Beach-based EnCore Group has lined up three launch customers as it awaits clearance for one of the toughest certification approvals in aviation.
MARKETING: New clients, innovations help double sales
Rauxa is rising. The Costa Mesa-based tech-driven marketing agency—reporting a 90% jump in revenue over 2015—debuted at No. 5 on this year's Business Journal list of the fastest-growing large private companies in Orange County. Quite the leap, especially for an 18-year-old company.
This Year's Ranks Led by the 'Big As' Grew Jobs 30%
In life, in lists, it's rough to do apples-to-apples comparisons. In culling our weekly lists of every business silo and subsilo, of firms of all ownership forms and makeups, we have several goals: to compile as comprehensive and accurate a roster as possible; to produce features on the best and the brazen; and to analyze beyond a comparison of numbers. As an editor wrote one sentence ago, "It's very difficult to do apples-to-apples comparisons."
Patient-Centered Approach Drives Mobility Surge
Last year's wearable-technology market was valued at just over $13.2 billion, according to healthcare research firm Kalorama Information, a division of Market Research Group LLC in Rockville, Md. That's projected to triple by 2020.
Allergan Still No. 1; Dendreon Joins List
The biggest drugmakers with headquarters or significant operations in Orange County employed 2,861 here at the close of the year ended July 30, up nearly 3% from a year earlier.
Gratitude Channeled Into Money-Saving Enterprise
It's a story that could have had an entirely different ending.
Also Wants To Raise Cash For Expanded Programs
The Orange County Bar Foundation began nearly 50 years ago with the sole purpose of raising funds for a law library. It evolved into a way for the business and law communities to help at-risk youth, and a new building it acquired this year is enabling it to serve more of them.
Argyros Tops Privates, Wells Fargo Corporate
For this year's philanthropy lists, the Business Journal ranked both corporate and private foundations by the amounts they gave to Orange County charities, instead of by total giving. The criteria include that the foundation is either headquartered here in OC, focuses a significant amount of its giving on OC charities, or that a principal lives here. Giving, in and of itself, can be volatile and fluctuate from year to year.
OneOC Aligns Their Values With Complementary Causes
Nestled on a tree-lined street in an unassuming 1970s-era building in Santa Ana resides Orange County's most prolific matchmaker.
More than 700 supporters gathered on July 13 at the Free Wheelchair Mission's annual Miracle of Mobility gala. The evening netted more than $1.5 million.
Obsidian, Veracity, Others Step Into Breach for Firms
Early this year, Glenn Chisholm was contemplating leaving the chief technology officer role at security software maker Cylance Inc. in Irvine.
Six List Newcomers in Hot Spaces: AI, Gaming
A mix of new and established companies helped Orange County post solid job growth in the software sector for the second consecutive year.
Projects Could Grow Bed Taxes by 21% in 5 Years
Garden Grove economic development officials promote their city in marketing materials as "Southern California's undiscovered jewel."
Say Tech Streamlines, Increases Buys, Sales
Two Orange County tech startups are helping lead the way in bringing the small-business segment of the commercial real estate industry into the modern age.
Orange County office market favors landlords due to the low availability rate. Though strong employment growth here had been a boon for leasing for much of the cycle, it recently tapered significantly due to low unemployment rates.
Prev Next