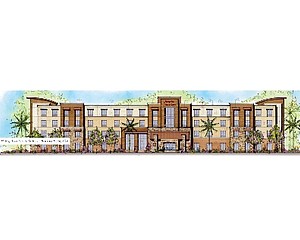 Properties Coming Soon For Smaller, Local Clients
Local data show at least eight Orange County hotel projects are under way, several that are scheduled to open in the next six months, and most notable for something they'll have in smaller amounts than just about any property in OC: meeting space.
Mortgage Broker Plans Offerings for a Lifetime
One old entrepreneur story has it that someone who knows nothing about an industry launches a venture, buys a fictitious-business name filing published in a favorite local business journal, and with some unsexy stuff in-between, is eventually visited by success, snagging a slew of small-business honors, buying a Revero, then doing it all over again. Alex Chen is doing it all wrong.
Selling Entrepreneurs On 'Extreme Discount'
"I'd rather work a hundred hours for myself than 40 hours for someone else," says Ryan Stack.
From New Towers to New Tastes, Hotels Spruce Up
Renovation has come to the fore among local hotels as construction slowed last year and several prominent redo projects concluded or are scheduled to debut.
The Business Journal's Paul Hughes asked local hoteliers to talk about something in the meetings and conventions arena that they chose not to pursue last year due to limited time, talent or resources—and about those projects that they did pursue to enhance events.
Growth Headed to OC Will 'Touch 'em All'
It's a hospitality industry truism: heads in beds.
Events Digs Make Splash as SF Up 2.1%
Meeting space is what the community of business is, at least for the 52 hotels on this week's list.
While much of the rest of the U.S. business community is celebrating the new tax law, owners and executives at certain California businesses are groaning and scrambling to talk to their tax experts.
Vic Hausmaninger, founding partner of HBLA CPAs Inc. of Irvine, talked often last year with Business Journal Financial Editor Peter J. Brennan about the proposed tax bill. Hausmaninger wrote the following on what chief financial officers and other C-level executives should consider:
Community Foundation Different Than a Business
On a recent weekday in December, Tracy Branson visited a home in Huntington Beach to prep it for sale and look for a real estate agent. She estimated the house would fetch between $600,000 and $700,000.
Office, Retail, Other Projects Could Top 3M SF
If you pull up a map of Orange County on Google Earth and zoom into the region's center, you'll find yourself staring at the Tustin Legacy development.
New product and reinvestments made to existing buildings drove rental rate growth in the office market. As occupiers focus less on cost analyses and more on recruiting, labor retention and employee well-being, state-of-the-art and upgraded product is vital.
The Orange County region concluded the third quarter with overall favorable market fundamentals and strong retail demand, despite big-box changes and uncertainty in the retail climate.
Orange County's industrial market hit the preverbal low point of the year with a handful of small but influential tenant vacancies negatively impacting occupancy gains. But they were softened by several other large deals, helping to keep activity on par with the previous quarter.
When businesses began budgeting for 2017 a year ago, few foresaw the dramatic economic effect of Donald Trump's election to the White House.
Increase Tops 10% For First Time in Decade
Orange County's credit unions are back to growing assets by double-digit percentages.
Prev Next