Midday Stock Roundup
Monday, September 11, 2017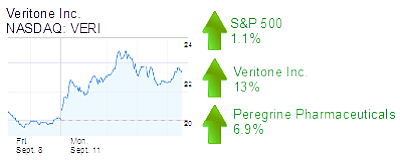 Markets were higher in midday trading as fears eased on the impact of Hurricane Irma and North Korea's threat of weekend missile tests.
The S&P 500 rose 1.1% in midday trading to 2,487.43. The Dow Jones Industrial Average was up 1.2% to 22,061.86. The NASDAQ climbed 1.1% to 6,432.73.
The yield on a 10-year Treasury bond increased 3.1% to 2.12%.
The price of gold dropped 1.1% to $1,336.
TECHNOLOGY
Veritone Inc. (NASDAQ: VERI) in Newport Beach jumped 13% to $22.73 and a $345 million market cap on above-average volume. Shares, which climbed 19% on Sept. 8, have almost tripled since positive coverage in Barron's and Forbes in mid-August.
HEALTHCARE
Peregrine Pharmaceuticals Inc. (PPHM) in Tustin climbed 6.9% to $3.08 and a $138 million market cap. The company announced the appointment of Roger Lias as president of Avid Bioservices, the company's contract and manufacturing subsidiary. He was previously head of global biologics business development for Allergan Plc.