Midday Stock Roundup
Wednesday, September 6, 2017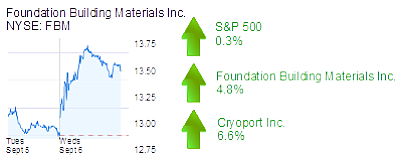 The S&P 500 was up 0.3% in midday trading to 2,466.13.
The Dow Jones Industrial Average was up 0.4% to 21,831.04.
The NASDAQ was up 0.3% to 6,394.38.
The yield on a 10-year Treasury bond was up 1.4% to 2.10%.
The price of gold down 0.4% to $1,339.
SERVICES
Foundation Building Materials Inc. (NYSE: FBM) in Tustin was up 4.8% to $13.64 and a $585 million market cap on above average volume. The company distributes building products including insulation, ceiling systems and metal framing.

HEALTHCARE
Cryoport Inc. (NASDAQ: CYRX) in Irvine was up 6.6% to $8.61 and a $214 million market cap. It provides cloud-based logistics and shipping services for the life sciences industry. The company has been discussed in recent weeks, including a MarketWatch item today, as benefitting from new cancer-fighting gene therapies, which include one now approved in the U.S. made by Novartis AG.
TECHNOLOGY
Adomani Inc. (NASDAQ: ADOM) was up 6.3% to $12.65 to an $858 million market cap on moderate volume. The company makes and installs zero-emission electric drivetrain systems for fleet vehicles.