Kia Stinger Unveiled
Monday, January 9, 2017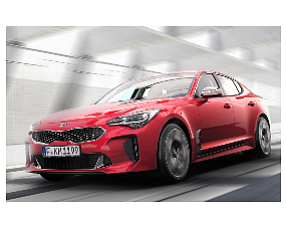 Kia Motors America Inc. in Irvine debuted its first sports sedan Sunday at the North American International Auto Show in Detroit.
Stinger is Kia's "highest-performance production vehicle" and goes on sale in the U.S. late this year; prices aren't set yet. The sports car has rear-drive automatic transmission and hits 62 mph in 5.1 seconds. Engine options include a 2-liter, 255-horsepower four-cylinder and a 3.3-liter, 365-horsepower twin-turbo V6.
It will compete in a luxury sport category with Audi A4, Infiniti Q50, Lexus IS, BMW 4 Gran Coupe and Mercedes CLS1.
"The Stinger really is a dream car for us," Vice President of Product Planning Orth Hedrick said in a statement. "That dream is now a reality. ... [N]o detail was too small to be obsessed over, and the result is simply stunning."
Kia sold 647,598 vehicles last year, a 3.5% increase over 2015.