Midday Stock Roundup
Thursday, May 29, 2014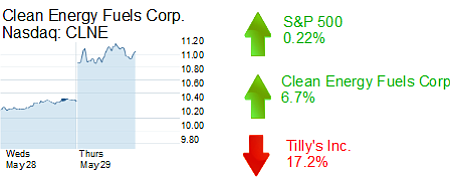 The S&P 500 rose 0.22% to 1,914.03 in afternoon trading Thursday.
The Dow Jones Industrial Average was up 0.11% to 16,650.86, while the Nasdaq was up 0.30% to 4,237.66.
The yield on a 10-year Treasury bond declined 0.53% to 2.42%.
The price of gold was down 0.25% to $1,256.60.
ENERGY
Clean Energy Fuels Corp. was up 6.7% to $10.97 on sector strength and talk of expansion into consumer markets. Westport Innovations and American Midstream Partners were up 4% and 2%, respectively, Thursday afternoon. Westport provides technology for natural gas engines and parts; American Midstream is a natural gas processor and transporter.
Clean Energy Fuels Corp. provides natural gas to municipal fleets, including garbage trucks, at about 500 stations. Market watchers have recently said commercial interstate trucking may come on-board, followed by light-duty vehicles.
APPAREL
Tilly's shares rebounded Thursday morning after plunging on word of poor earnings after markets closed Wednesday. In after-hours trading, it was down 22% to about $8. But in afternoon trading, it had recovered about a third of the loss, rising to $8.81. It reported earnings of $591,000 for its most recent quarter, down 74% from the same period last year.