Knott's Performance "Strong" in Q1
Thursday, May 8, 2014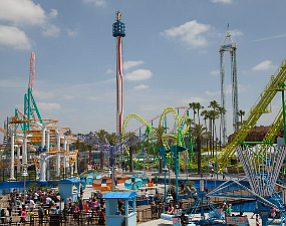 Knott's Berry Farm helped carry its parent through what's typically a slow period for Sandusky, Ohio-based Cedar Fair Entertainment Co.
The first quarter usually accounts for less than 5 percent of Cedar Fair's revenue for the year because most of its parks are closed during the quarter. Knott's Berry Farm is the only park in the Cedar Fair portfolio that's open all year.
The local park was called out during Cedar Fair's call with analysts Thursday morning when Chief Executive Matt Ouimet said it had "strong in-park guest spending."
Ouimet told analysts Knott's is benefiting from price increases at competitors that make it look "like a tremendous value."
That helped offset the company's overall 3% net revenue decline to $40.5 million, which it attributed to the shift of the Easter and spring break holidays.
Cedar Fair reported a net loss of $83.5 million for the quarter, narrowed from a $109.1 million loss in the year-ago period.
The company doesn't break out attendance or results for its individual parks.
Themed Entertainment Association and AECOM reported Knott's attendance was down 4% in 2012 to 3.5 million visitors, the most recent data available.
Cedar Fair shares were trading down about 1% in afternoon trading Thursday to a market value of $2.86 billion.