Midday Stock Roundup
Monday, March 31, 2014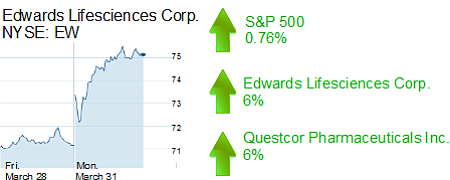 The S&P 500 was up 0.76% to 1,871.74 in afternoon trading Monday.
The Dow Jones Industrial Average was up 0.80% to 16,453.65, while the Nasdaq was up 1.12% to 4,202.47.
The yield on a 10-year Treasury bond rose 0.44% to 2.72%.
The price of gold fell 0.76% to $1,284.00 per ounce.
Irvine-based heart valve maker Edwards Lifesciences Corp. was up about 6% to $75.21 for a market value of $8.07 billion. Its shares rose on a couple studies presented over the weekend at the American College of Cardiology conference. One showed Edwards' second-generation heart valve outperforming Minnesota-based rival Medtronic's Inc.'s, while a separate study concluded that heart valves can be fixed without requiring open-heart surgery.
Medtronic Inc. was trading up on Monday by about 2% to $61.43 after it got a positive review on its CoreValve. It had a recent market value of $61.48 billion.
Anaheim-based drug maker Questcor Pharmaceuticals Inc. was up about 6% to $65.60 for a market value of $3.86 billion. The company's shares are up about 13% so far this year.