Midday Stock Roundup
Thursday, March 27, 2014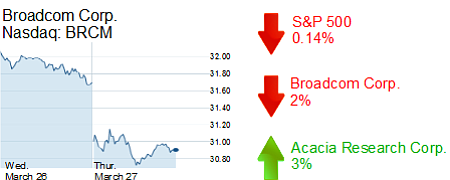 The S&P 500 was off 0.14% to 1,849.91 in afternoon trading Thursday.
The Dow Jones Industrial Average rose 0.02% to 16,272.74, while the Nasdaq fell 0.36% to 4,158.65.
The yield on a 10-year Treasury bond was off 0.81% to 2.68%.
The price of gold was down 0.72% to $1,294.00 per ounce.
TECHNOLOGY
Irvine chipmaker Broadcom Corp. was off about 2% to $30.96 for a market value of $17.99 billion. OTR Global reported a fall in Broadcom's sales of 3G baseband processors to Samsung.
SERVICES
Newport Beach-based patent licensor Acacia Research Corp. was up about 3% to $14.88 for a market value of $753.52 million. The company announced several settlement and patent licensing agreements on Wednesday.