Midday Stock Roundup
Monday, June 30, 2014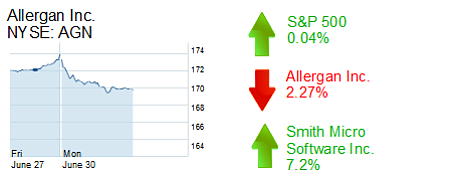 The S&P 500 rose 0.04% to 1,961.82 in midday trading Monday.
The Dow Jones Industrial Average was down 0.08% to 16,838.49, while the Nasdaq was up 0.29% to 4,410.50.
The yield on a 10-year Treasury bond declined 0.47% to 2.52%.
The price of gold was flat at $1,319.90
HEALTHCARE
Allergan Inc. was down 2.27% to $170 and a market capitalization of $50.6 billion. The FDA delayed approval on an application for the Semprana migraine inhaler and approved one for Ozurdex, intended to treat diabetic macular edema, which causes vision loss and eventual blindness in people with diabetes.
TECHNOLOGY
Aliso Viejo-based Smith Micro Software Inc. was up 7.2% to $1.03 and a market cap of $40 million. It released its new AniMates mobile messaging app for Android that adds animation, voice effects and talking characters to voice mail messages, and lets users share those messages with others.