Midday Stock Roundup
Friday, June 6, 2014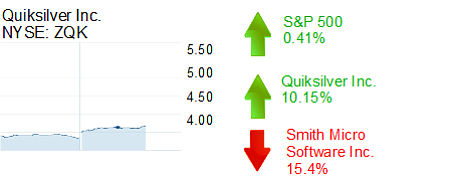 The S&P 500 rose 0.41% to 1,948.49 in afternoon trading Friday.
The Dow Jones Industrial Average was up 0.49% to 16,919.05, while the Nasdaq was up 0.44% to 4,315.10.
The yield on a 10-year Treasury bond rose 0.27% to 2.59%.
The price of gold was down 0.06% to $1,252.50.
APPAREL
Huntington Beach-based Quiksilver Inc. jumped 10.15% to $3.69. Research firm UBS said it's a good takeover target for Greensboro, N.C.-based VF Corp., citing Quiksilver's strong brand, and summer, action and sports apparel emphasis. Quiksilver's market cap is $626.3 million; VF Corp., which owns Cypress-based Vans Inc., has a recent market cap of $27.4 billion.
TECHNOLOGY
Shares of Aliso Viejo-based software company Smith Micro Software Inc. fell 15.4% to $0.89. The company issued a statement on Friday saying it is not involved in developing a smartphone with Amazon.com Inc. In late afternoon trading yesterday, the stock had leapt above $1.10 on rumors it was.
Irvine-based business software maker TigerLogic jumped 17.1% to $1.44 on heavy trading. By midday 181,700 shares had traded hands, vs. a 90-day average volume of 13,350.