Midday Stock Roundup
Wednesday, June 4, 2014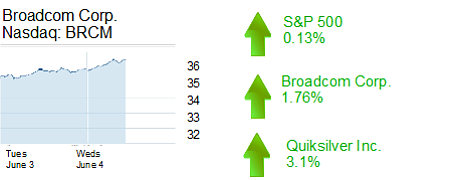 The S&P 500 rose 0.13% to 1,926.73 in afternoon trading Wednesday.
The Dow Jones Industrial Average was up 0.02% to 16,725.01, while the Nasdaq was up 0.41% to 4,251.37.
The yield on a 10-year Treasury bond rose 0.42% to 2.60%.
The price of gold was down 0.02% to $1,244.30.
TECHNOLOGY
Irvine-based chipmaker Broadcom Corp. was up 1.76% to $36.50, continuing its upward run this week. Drexel Hamilton upgraded the company's shares to buy from hold this morning, citing growth potential in high-speed data. Cowen Group said yesterday exiting baseband makes Broadcom a better mergers and acquisitions candidate, maintaining an outperform rating.
APPAREL Huntington Beach-based Quiksilver Inc. stabilized this afternoon, with shares up 3.1% to $3.52. The stock has been hard hit by losses reported for its most recent quarter, with shares down 40% for the week.