Midday Stock Roundup
Tuesday, June 3, 2014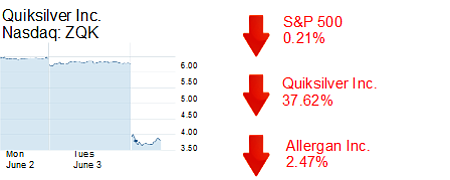 The S&P 500 fell 0.21% to 1,920.89 in afternoon trading Tuesday.
The Dow Jones Industrial Average was down 0.19% to 16,711.89, and the Nasdaq fell 0.38% to 4,221.10.
The yield on a 10-year Treasury bond rose 1.42% to 2.57%.
The price of gold was up 0.06% to $1,244.80.
APPAREL
OC apparel stocks are being hammered today, led by Quiksilver, down 37.62% to $3.62. After close of business yesterday, the Huntington Beach-based company reported a loss of $46 million for the quarter ended April 30. Analysts had expected a loss of $3.4 million. Pac Sun was down 5.91% to $2.23; Tilly's was down 2.43% to $8.23; and Wet Seal was down 1.93% to $0.87. All of the companies reported poor numbers in the past week, and saw their stocks drop between 10% and 35% since then.
HEALTHCARE
Allergan was down 2.47% to $168. A takeover by Valeant Pharmaceuticals International Inc. seems less likely now, and yesterday Credit Suisse downgraded Allergan to neutral from outperform, citing a more balanced risk/reward perspective after Valeant's latest bid, which market watchers viewed as inadequate.