Quiksilver Shares Plummet
Monday, June 2, 2014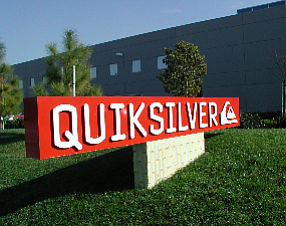 Shares of Quiksilver Inc. fell 28% to near $4 and a market cap of less than $700 million in after-hours trading Monday after the retailer posted a $46 million loss for the quarter ended April 30.
The Huntington Beach-based apparel maker and retailer lost $33 million during same period a year earlier.
Analysts had expected a loss of about $3.4 million for the quarter.
Quiksilver reported $408 million in revenue, down 9% compared with $456 million it had during the same period last year.
The sales declines came across the companies core brands. Revenue for its Quiksilver division decreased $13 million, or 7%, to $167 million. Roxy's sales decreased $7 million, or 6%, to $121 million. DC Shoes was down $24 million, or 19%, to $103 million.
The company's distribution channels showed mixed results.
Wholesale revenue decreased 15% to $286 million, while same-store sales at company-owned stores increased 1%, to $90 million. Quiksilver opened 28 new stores over the prior 12 months.
E-commerce revenue grew 23% to $30 million.