Midday Stock Roundup
Thursday, July 24, 2014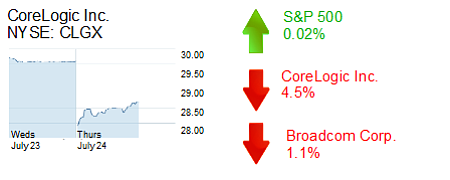 The S&P 500 was flat at 1,987.16 in midday trading Thursday.
The Dow Jones Industrial Average was also flat at 17,076.22, while the Nasdaq was down 0.2% to 4,466.22.
The yield on a 10-year Treasury bond rose 2% to 2.51%.
The price of gold declined 1.1% to $1,290.80.
SERVICES
Irvine-based mortgage information provider CoreLogic Inc. was down 4.5% to $28.72 and a market cap of $2.64 billion. It reported net income of $25.2 million in the second quarter, down 21.5% from the same period last year. Earnings per share were $0.27 in the second quarter this year vs. $0.33 in the second quarter last year. CoreLogic attributed results to lower mortgage volume, higher interest expense and the cost of acquisitions and severance.
TECHNOLOGY
Irvine-based chipmaker Broadcom declined 1.1% to $37.72 and a market cap of $22.1 billion. It said it would wind-down rather than sell its baseband business and lay off 2,500 employees, about 20% of its total workforce.