Midday Stock Roundup
Wednesday, July 23, 2014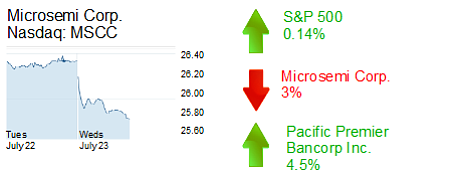 The S&P 500 rose 0.14% to 1,986.27 in midday trading Wednesday.
The Dow Jones Industrial Average was down 0.15% to 17,087.12, while the Nasdaq was up 0.29% to 4,468.93.
The yield on a 10-year Treasury bond declined 0.53% to 2.45%.
The price of gold was down 0.15% to $1,305.
TECHNOLOGY
Aliso Viejo-based chipmaker Microsemi Corp. was down 3% to $25.75 and a market capitalization of $2.4 billion. It acquired Cork, Ireland-based chipmaker Mingoa on undisclosed terms.
BANKING
Irvine-based Pacific Premier Bancorp Inc. was up 4.5% to $14.75 and a market cap of $254 million. The bank reported second quarter results earning net income of $4.6 million or $0.27 per share compared to a net loss of $249,000 or $0.02 per share in the same period last year.