Broadcom to Trim Workforce
Wednesday, July 23, 2014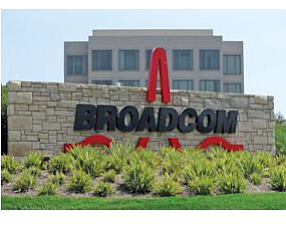 Irvine-based chipmaker Broadcom Corp. plans to cut about 20% of its workforce and consolidate or close 18 locations around the world as part of a restructuring plan prompted by the wind down of its unsuccessful baseband business.
The widespread cost-cutting plan, which includes shedding about 2,500 employees, was detailed by Chief Executive Scott McCregor and Chief Financial Officer Eric Brandt Tuesday afternoon in an analyst conference call after the company reported revenue in the recently ended quarter that fell in line with Wall Street estimates and adjusted profits that beat expectations.
Broadcom declined to discuss local ramifications and referred questions to Tuesday's regulatory filing, which did not provide specific geographic details on the pending cuts and office closures.
"Unfortunately, we do not break the numbers out," a company spokesperson told the Business Journal.
Broadcom currently employs about 2,500 people at its Irvine campus next to the University of California-Irvine. The office is home to corporate personnel, including administrative, marketing, sales, legal and human resources, as well as engineers.
It employed about 12,550 people companywide at the end of 2013, according to its annual report.
The restructuring follows Broadcom's June announcement that it would exit the baseband chip business, a segment dominated by San Diego rival Qualcomm Corp.
Baseband chips are essentially the technical brains of mobile phones.
Broadcom shares are up nearly 1% in afterhours trading after closing the intraday session down 1.5%. Its market value is about $22.3 billion.