Midday Stock Roundup
Friday, July 18, 2014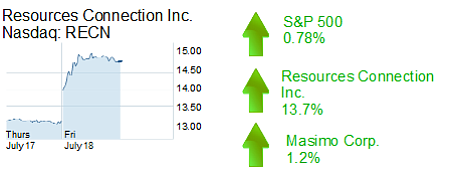 The S&P 500 rose 0.78% to 1,973.30 in midday trading Friday.
The Dow Jones Industrial Average was up 0.51% to 17,063.67, while the Nasdaq was up 1.22% to 4,416.72.
The yield on a 10-year Treasury bond rose 0.65% to 2.49%.
The price of gold fell 0.66% to $1,308.20.
SERVICES
Irvine-based business consultancy and professional services firm Resources Connection Inc. rose 13.7% to $14.85 and a market cap of $575.5 million. It said total revenue was up 4.9% to $156.8 million in its Fiscal Year 2014 fourth quarter ended May 31, with U.S. revenue up 7.7%. Earnings per share of $0.18 this year were up from $0.13 in the fourth quarter last year. Earnings rose to $16.4 million compared with $13.9 million in the fourth quarter a year ago. 2014 total earnings were $567 million.
HEALTHCARE
Irvine-based medical device maker Masimo Corp. was up 1.2% to $24.30 and a market cap of $1.4 billion on New York City-based analyst BTIG initiating coverage with a "buy" rating and a $32 target price.