Midday Stock Roundup
Wednesday, July 16, 2014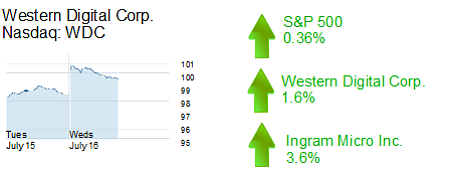 The S&P 500 rose 0.36% to 1,980.43 in midday trading Wednesday.
The Dow Jones Industrial Average was up 0.37% to 17,123.86, while the Nasdaq was up 0.39% to 4,433.80.
The yield on a 10-year Treasury bond fell 0.39% to 2.54%.
The price of gold was up 0.25% to $1,300.30.
TECHNOLOGY
Irvine-based storage products maker Western Digital Corp. was up 1.6% to $100.25 and a market capitalization of $23.6 billion. Milwaukee-based Robert W. Baird & Co. Inc. upgraded the company from "neutral" to "outperform" and raised its target price to $120. Western Digital stock is up 47% in the last year compared to an S&P increase of 18% for the same period.
Santa Ana-based tech products distributor Ingram Micro Inc. was up 3.6% to $29.87 and a market cap of $4.6 billion. New York City-based Bank of America Merrill Lynch upgraded the company two notches from "underperform" to "buy" and set a price target of $36. The analyst noted a greater mix of high-margin mobile, cloud and technology solutions offerings, and upped its estimate of FY 2015 earnings per share from $2.94 to $3.14 and FY 2016 EPS estimates from $3.07 to $3.64.