JWA Area Hotel Completes $3.3 Million Upgrade
Wednesday, July 16, 2014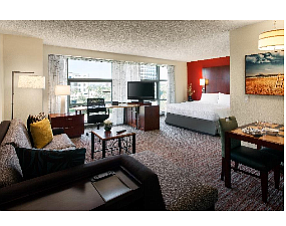 The Residence Inn Irvine John Wayne Airport/Orange County said it completed its $3.3 million renovation of 174 suites.
New and upgraded amenities include ergonomic furniture, new elements in bathrooms, high-speed Internet access and separate areas for work, sleep and meals, according to the hotel.
Kitchens include conventional ovens, dishwashers, microwaves.
The hotel also offers guests grocery delivery, a 24-hour market and laundry facilities.
Fitness facilities include an outdoor "SportsCourt" for basketball, volleyball, tennis or badminton and a heated pool.
The hotel is 10 to 15 minutes from John Wayne Airport, South Coast Plaza, Fashion Island and the Irvine Spectrum.